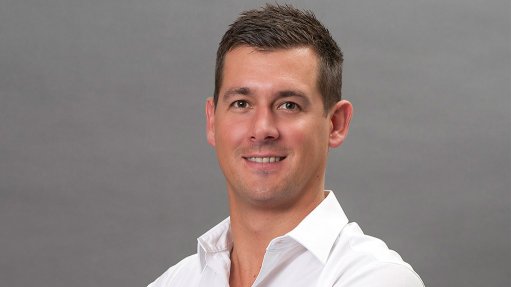 HENRY FOURIE There are many benefits to mines hiring equipment on a long-term basis from Rand-Air
Hire compressors can play a cardinal role in keeping some local mines operational, especially amid ageing surface compressors that feed air underground, says portable air compressors and generator rental Rand-Air long-term rental business development manager Henry Fourie.
Rand-Air provides long-term hire contracts with its 1765 and 2119 cubic feet per minute (cfm) electric machines to supply air at various underground mines in Welkom, Steelpoort, Westonaria and Rustenburg.
"On surface during shaft sinking, the mines use 1 500 cfm electric or diesel machines. Once the mine is established, Rand-Air can also supply air from surface for the underground mining operations to power rock drills of various types. For this, a popular choice is the 1765-2119 cfm electric machines, which we have supplied in various quantities, from as few as two units up to ten units on a compressor bank," he notes.
Rand-Air also has specially modified electric units for use underground. A major deep-level gold mine, for example, will have a 2-km-deep shaft down to a certain mine level. From the shaft, it can be as far as 1 km or more to the rock face where drilling is taking place.
"Many older South African mines have been in existence for decades and, over time, the compressed-air pipe systems have deteriorated, allowing air to escape and pressure to dissipate from numerous leaks before air actually reaches the driller."
Further, Fourie explains that rental contracts range from 12 to 60 months. "With longer-term rental periods, Rand-Air gives mines the option to renew the rental contract if it so wishes."
He adds that long-term rentals are beneficial because the rates are cheaper, Rand-Air offers favourable service-level agreements and the company's "response times form a key part of these agreements". Also, mines do not have to employ skilled people specifically to service and maintain compressors or generators.
Meanwhile, Fourie says that, with regard to long-term rentals, the challenge is that production pressures on mines are "immense", and men and machinery sometimes have to work in harsh environments. However, with short- and long-term rentals, clients are always assured of a Rand-Air machine that will perform as if it is a new unit, he adds.
"Rand-Air service technicians are assiduous in supporting short- and long-term rentals," notes Fourie, adding that should a client experience difficulty with a rental unit, a Rand-Air staff member is prepared to field calls from the mine – even in the middle of the night.
"If need be, after such a call, the sales representative will phone a technician who is on call, who will immediately drive to the mine and rectify any issues."
Rand-Air offers long-term hire contracts internationally, servicing a South African mine, in Botswana, for example. However, further afield, Rand-Air will look to its parent company, air compressors and industrial gases specialists Atlas Copco, to service long-term contracts. "We have our own dedicated service staff but make use of Atlas Copco when we work in remote areas where we don't have service staff." Fourie concludes.