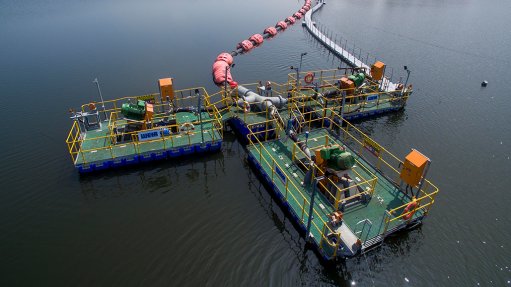 MOVEMENT MADE EASY Weir Minerals' pontoons allow for equipment to be easily moved when necessary
Specifying pumps for mine water applications is not as simple as it would first appear, and these applications often require a bespoke solution, says original-equipment pumps manufacturer Weir Minerals Africa.
Incorrect specification could result in poor performance, excessive operational and maintenance costs, as well as unplanned downtime, elaborates Weir Minerals Africa pumps product manager Marnus Koorts.
Mine water applications generally comprise planned water reticulation, unplanned water agglomeration and site development requirements.
Each of the applications have very specific requirements and it is essential to work with a supplier that has the necessary experience and expertise to correctly size the pump for the application, Koorts believes.
He tells Mining Weekly that planned water reticulation involves an extensive design phase for incorporating a fit-for-purpose pump system into a mining plant that often contains fixed, well defined pumps.
Generally, Weir Minerals Africa receives information about the order in advance, including the quality of water in terms of acidic, solids content, head and flow requirements, consequently allowing for the optimised specification of pump material.
To a large extent, planned water reticulation systems stay constant with minimal modification throughout the mine life, Koorts notes.
However, unplanned water agglomeration systems come with challenges of their own, and, more often than not, are mobile in nature.
Various changes on a mine site such as a change in the angles of water flow or the relocation of a tailings dump could necessitate the movement of equipment.
In instances like this, plants should obtain assistance from a company that has the requisite expertise to advise on additional pumping requirements and solutions, particularly where reliable power supply is not available, he explains.
"We can integrate diesel-powered pumping units with a mine's ancillary equipment to make a unique solution."
Koorts points out that, in terms of site development requirements, mines often order new pump systems when designing secondary or tertiary tailings dams, which require different site-specific requirements every time.
Occasionally, there are changes in the density or type of material being pumped, which necessitates flexibility of solutions, a service which Weir Minerals Africa is particularly adept at providing.
The company prides itself on its "engineered to order" offering, which involves extensive customisation to client requirements, often through integration with other Weir Minerals products, such as hydrocyclone separators, which filter the discharge line's water so that it can be used as gland water supply.
Koorts says these integrated solutions enable the company to solve multiple problems pertaining to the pumping of water and larger agglomeration problems, as well as safety hazards.
Weir Minerals Africa's "integrated solutions" offering has also been proven in the company having custom designed a pump system to be "crocodile proof" at a site that had a particular problem with the animals climbing onto the pump system.
The company designed pontoons to reach the middle of a tailings dam to extract the clean water. These were custom built with hydraulic lifting for maintenance purposes,eliminating the need for a crane when doing pump maintenance in this part of the plant.
"For these kinds of solutions, you need a strong engineering department and in-house manufacturing capability, which we offer across our manufacturing facility in Isando."
Further, the Weir Group spends about 2% of revenue on research and development, according to its 'Annual Report for 2019'.
Koorts says the company works closely with academic institutions, funding the knowledge and research used for product development, and has various graduate programmes for students to advance their knowledge in this technical field.
Weir Group typically awards bursaries for students in the chemicals, industrial, mechanical and metallurgical engineering fields and, subsequent to graduating, students are required to work for Weir Minerals for a period.
The Weir Group is headquartered in Scotland, with operations in Africa, Europe, Australia, Asia and the Americas.