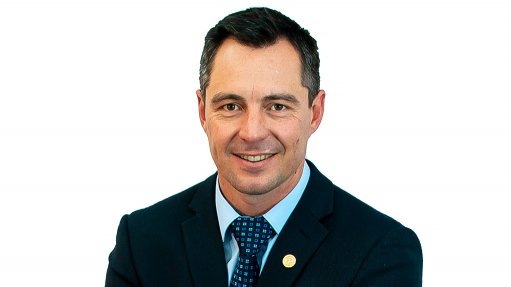 STEVE CATHEY We aim to become the go-to engineering team to solve the challenges around transitional ores that many copper producing mining houses are currently facing
Local consulting firm Metallurgical Engineering Technology and Construction (METC) was approached in 2017 to provide detailed engineering and equipment supply for the Mutoshi copper mine, in the Democratic Republic of Congo (DRC).
METC director Steve Cathey states that the main objective was to design a metallurgical plant with minimal risk and maximised upside potential.
"Having engaged with leading DRC copper mining houses, such as Chemaf, our understanding of the challenges being faced is advanced. We have transferred knowledge from previous projects to give clients the most optimal solution for their copper projects."
Chemaf acquired the Mutoshi copper mine, located in Katanga province, in 2016. A year later, Chemaf approached METC and minerals processing technology provider Outotec for the detailed engineering and equipment supply for the mine.
Cathey points out that delivery of the project will be completed using METC's and Outotec's experience in metallurgical plant design, as well as Chemaf's experience in copper and cobalt plant operation and optimisation.
METC and Outotec collaborated to develop a 50 000 t/y copper cathode and a 16 000 t/y cobalt-in-hydroxide production plant for Chemaf, as part of Phase 1 of the project. The plant is currently under construction.
Cathey explains that Phase 1 of the project was designed for easy and cost-effective expansion, as the plant is planned to be expanded in Phase 2 to achieve a final nameplate capacity of 100 000 t/y copper.
"Overall plant throughput turns an ore-processing capability of 3.9-million tonnes a year at 0.85% acid-soluble copper and 0.4% acid-soluble cobalt. The ore-receiving and milling plant design was optimised such that future throughput would be achieved using two parallel two-stage grinding circuits, each having their own dedicated single-stage crushing facility.
"For initial plant operations, only one milling module with a single closed-circuit semi-autogenous grinding mill is to be built," Cathey elaborates.
He says that the sticky ore requires using conventional crushers, screens and intermediate storage. Consequently, a mineral sizer with a direct feed conveyance to the mill was chosen.
"The expansion requirements of the mill necessitated a mill discharge sump and cyclone cluster to be designed for the final two-mill circuit tonnage requirements. The mill feed conveyor, front-end bins and crusher were also designed for future full-module tonnage throughput."
Cathey adds that the significant tonnage throughput change with the second mill installation will require a change-out of the cyclone feed pumps and the associated pipelines.
Further, the cyclone feed boxes and mill discharge tanks will be designed with additional nozzles to accommodate additional piping and pumping during Phase 2, with minimum downtime.
Project Delivery
To achieve timeous delivery of the project and minimise design risks, Cathey notes that the project delivery responsibilities have been shared among Outotec, METC and Chemaf's process and construction team.
"Chemaf signed a fixed-priced engineering, procurement and construction support contract with METC and Outotec, which is different from a traditional engineering, procurement and construction management contract. In this way, the project delivery time and expenses have significantly improved to date."
He points out that METC's responsibilities pertain to all detailed engineering deliveries, including process flow diagrams, piping and instrumentation diagrams, plant layout design, as well as civil, mechanical and electrical designs.
Chemaf's process team has taken responsibility for metallurgical testwork, with METC assisting in specific testwork cases that were outsourced to external laboratories.
Developing and updating the process mass balance and process design criteria, as well as reviewing the project's deliveries from Outotec and METC, are also part of Chemaf's responsibilities.
Meanwhile, Outotec's scope includes the delivery of a core engineering package. This role focuses on reviewing results from Chemaf's testwork that was not outsourced to external laboratories, as well as process design criteria, to ensure that these elements comply with process requirements.
Outotec also has a detailed engineering supervision role, as well as a significant scope of delivery for the main process equipment and technology.
The expected benefits of the modular pre-engineering plants supplied by Outotec include lower total investment, a shorter project lead time, lower project financing costs, less work at the construction site, less risk owing to shorter project time at site and residual value owing to the reusability of modules.
Cathey adds that the plant design has ensured low operating cost, optimised water balance, high metal recovery and an optimised capital cost. He highlights that the innovative project implementation plan significantly accelerates the project execution timeframe, particularly when compared with traditional models employed on the DRC Copperbelt.
The project is expected to be completed in 2022.
"By simplifying the project interfaces and scope for each party, as well as their respective expertise and experience, Chemaf, Outotec and METC have developed a robust process design and project implementation plan for the Mutoshi project," he concludes.