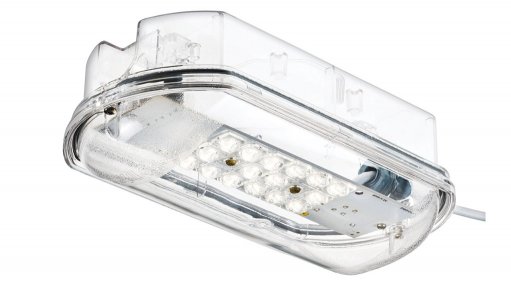 DIVERSE APPLICATIONS The OPTIWAY is suitable for use in various industrial environments, including underground haulage, outdoor mining areas, and others
Industrial lighting solutions provider BEKA Schréder has introduced "one of the most versatile and reliable" industrial light-emitting diode (LED) bulkhead luminaires: the OPTIWAY. The luminaire can be mounted on any structure, is "highly robust" and offers a high photometric performance.
The OPTIWAY uses the latest LED technology and "unique optical distribution" that suits most lighting applications. Its small size and robust design will provide the necessary amount of light for any low-power bulkhead application.
The OPTIWAY is suitable for use in various industrial environments, which include underground haulage, outdoor mining areas, oil and gas refineries, food and beverage plants, manufacturing process plants and any application that requires a low power and robust luminaire. The uniquely designed optional OPTILINK plug-in system simplifies the installation process significantly, especially for underground mining applications.
The "high quality" of light and the large range of input voltages make it possible to use this bulkhead for only 110 VAC supply, 230 VAC, or optionally ranging from 90 VAC to 305 VAC. The design and choice of materials used make the OPTIWAY highly vandal resistant.
The OPTIWAY consists of a polycarbonate or acrylic housing, which is sealed by means of a silicone gasket. The specially designed closing mechanism seals this luminaire permanently to IP 66 and prevents internal access, which would lead to damage and the reduction of the lifetime and performance of the luminaire.
The newest LED technology has been used while limiting the maximum wattage and the lumen output to optimise the thermal environment of the electronic components. Consequently, the bulkhead is able to last at least 50 000 hours in the most extreme environment.
Various mounting options, including a wall mounting bracket, hook bracket, or mounting by simply using a metal or plastic cable tie, make this luminaire a truly versatile low-power bulkhead.