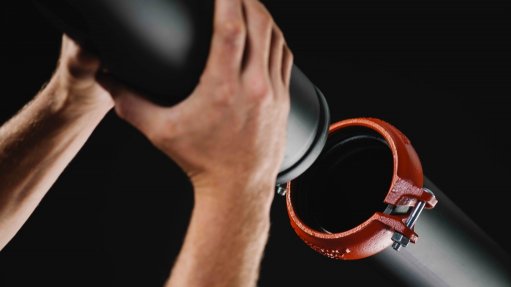 FIRELOCK EZ STYLE 009N The improved design of the new range makes it even easier to install than the 009H rigid coupling style on which it was modelled.
Mechanical pipe-joining systems manufacturer Victaulic has improved the design of its fire-protected FireLock EZ Style 009N couplings range.
Victaulic Africa regional manager Barry van Jaarsveld says the improved design is easier to install than the 009H rigid coupling style, on which the FireLock EZ Style 009N range has been modelled.
He adds that the couplings have reduced users' installation efforts by 50% and that users have seen impact wrench battery efficiency improve by 100%. The range is available in pipe sizes ranging from DN32 to DN200.
"Victaulic listened to con-tractors looking for a coupling that is fast and easy to install and provides a direct wrench feel while improving battery life. The FireLock EZ Style 009N rigid coupling has no loose parts to drop or cause injury, is ready to install and promises fast installation and no rework, saving the contractor both time and money," explains Van Jaarsveld.
The 009N model is part of Victaulic's installation-ready product line and has all the time-saving benefits of the 009H model, he says. Further, the range boasts benefits that include a nylon-patched fastener design, which eliminates the need to disassemble housings for installation; full vacuum service for wet and dry applications; and a centre lip gasket that ensures proper pipe positioning.
Victaulic at Electra Mining
Victaulic showcased its latest flameproofing technology at this year's Electra Mining Africa expo, which took place at the Nasrec Expo Centre, in Johannesburg, from September 15 to 19.
Among the company's products that were showcased was its new Series 725 diverter valve, which has been designed specifically for paste backfill lines. The valve improves the efficiency of backfill operations, while providing durable, reliable service, says the company.
Victaulic also displayed its installation-ready range of flexi-ble and rigid couplings, which are up to ten times faster to install than other joining methods, offering major time savings – both from reduced downtime during system maintenance and during retrofit applications.
The Victaulic patented advanced groove system, which offers a full range of couplings, fittings, valves and accessories for pipes ranging in diameter from 350 mm to 1 525 mm, and has a pressure rating of up to 2400 kPa, was also on show, along with the company's abrasive surfaces and high-density polyethylene joining solutions.