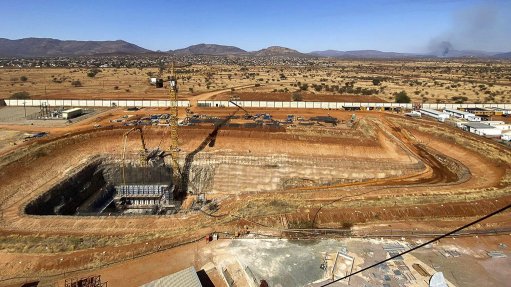 PLATREEF PROJECT The preliminary economic assessment envisaged average production of 109 000 oz/y of platinum, palladium, rhodium and gold
Diversified miner Ivanhoe Mines' palladium/rhodium/platinum/gold/nickel/copper Platreef project is well under way, with the company pursuing a phased-development approach for the project, says Ivanhoe technical services executive VP Pierre Joubert.
The Platreef 2020 preliminary economic assessment (PEA) envisaged an initial 700 000 t/y underground mine using the existing Shaft 1 infrastructure and a new 770 000 t/y concentrator, targeting high-grade mining areas, with significantly lower capital costs.
The PEA also envisaged average production of 109 000 oz/y of plat­inum, palladium, rhodium and gold (3 PGE + Au), as well as five-million pounds of nickel and three-million pounds of copper for Phase 1 during years one to six.
Average production of 613 000 oz/y of 3 PGE + Au, plus 27-million pounds of nickel and 16-million pounds of copper, are envisaged for Phase 2 – years seven to 30.
However, the project's existing PEA is being elevated to a full feasibility study, with the results from the feasibility study and the associated technical report expected in early 2022.
Imminent Future Development
Joubert highlights that it is critical that Ivanhoe achieves its planned development rates during the initial stages of the operation.
As such, the company must ensure that its "development plan is focused on exactly what is required for [the] safe mining of first ore; therefore, the development of our Shaft 1 vent is an important immediate goal".
Equipping Shaft 1 is expected to be completed in early 2022.
Thereafter, mining development and early construction works on the Shaft 2 headgear will begin. Ivanhoe intends to complete the early construction works and the entirety of the Shaft 2 headgear in the second quarter of 2022.
Joubert stresses that the ultimate goal for Platreef is to start production in 2024.
Thereafter, the outlined phased-development plan also contemplates the first of two 2.2-million-tonne-a-year concentrators starting production in 2029.
"Expansion of the first concentrator will occur in 2025, after the initial 770 000 t/y concentrator achieves full production," says Joubert.
However, Ivanhoe is considering the acceleration of this expansion by bringing forward Shaft 2 development.
"Shaft 2 sinking will start to coincide with the construction of the two additional 2.2-million-tonne-a-year concentrator modules and the ramp-up of the initial concentrator to its full capacity of 770 000 t/y, increasing steady state production to 5.2-million tonnes a year," he adds.
Community Outreach Programmes
Ivanhoe Mines ensures the development of the communities surrounding its operations through its mining projects.
"We contribute to community development through our social and labour plan (SLP) and corporate social investment initiatives," Joubert says.
Ivanhoe has, over the past seven years, made a "considerable investment" in the development of human resources, in terms of employees and people from local communities affected by the mine's footprint.
Ivanhoe's strategy is twofold: creating a pool of eligible candidates for potential employment throughout all the development phases of the mine and equipping local candidates with portable and business skills, which would, in turn, enable them to find employment or pursue entrepreneurship opportunities in the wider job market.
This has been achieved by focusing on local economic development projects, enterprise and supplier development initiatives, as well as the development of job skills among local residents, adds Joubert.
"As a result, local procurement is bolstered through the establishment of new enterprises and the strengthening of existing enterprises in the formal and informal sectors, consequently increasing business capacity and gradually integrating these enterprises into our supply chain."
As part of the SLP, Ivanhoe has successfully implemented portable skills development, empowering more than 2 000 local community members by capacitating them for employment on the mine's civil construction projects and in the broader local labour market.
These community development initiatives are broad based and benefit all the communities – comprising about 150 000 people – surrounding the Platreef mine's footprint, says Joubert.
Ivanhoe Mines indirectly owns 64% of the Platreef project through its subsidiary, Ivanplats, and is directing all mine development work.