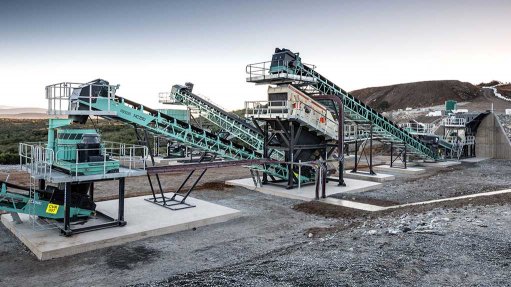 AWARD-WINNING Pilot Crushtec's Pilot Modular range is an award-winning range of ready to use semi-mobile, skid mounted crushing, screening, washing and stockpiling equipment
Focusing solely on crushing and screening equipment, mining equipment provider Pilot Crushtec offers customers a unique blend of Finnish industrial company Metso Outotec's and its own brand of mobile machinery equipment, to help optimise overall productivity and profitability.
The company standardises specifications on the units it stocks, and orders stock in advance, which Pilot Crushtec export manager Fernando Abelho says is critical, especially considering the current delayed lead times for equipment.
Lead times can be influenced by several factors, including commodity pricing driving up demand for equipment, which can lead to a supply deficit; extended machinery manufacturing times and general logistical challenges, such as those experienced during the ongoing global shipping and supply chain crises.
However, as Pilot Crushtec ensures that versatile mobile units are available and in stock, units can generally be dispatched almost immediately.
The company also ensures that its equipment features the most commonly required options, which is what make the units versatile.
For example, on the company's LT106 jaw crusher, the units come hammer-ready with a hammer in stock. This means that, should operational conditions or the application change, or should a customer require​ a rock breaker, a quick installation on-site with no modifications will see a faster start to operations. The mobile units make use of the same crusher, and often feeders, as the static equipment, which Abelho says "offers the same levels of durability as a fixed plant", with the benefits of mobility, flexibility and assists in critical parts holding and technical training for both operators and maintenance teams, which have become principal factors for producers.
For the most part, each unit can be operated on its own or in various configurations in combination with other equipment, which eliminates the need for established processing infrastructure.
For example, customers can customise the mobile machinery for their requirements through, for example, swopping the position of a jaw crusher and scalping screen in the process. This can be applied to selective mining purposes, and customised and designed according to the operation's requirements.
"Once commissioned, units can be prepped for transport, and customers can begin operating within a few hours of the equipment arriving at the location," Abelho comments, which means that the machinery has an almost immediate effect on mine throughput and productivity.
In addition to this versatile offering, Pilot Crushtec also boasts its own in-house engineers with extensive experience in crushing and screening, having nurtured a strong talent pipeline and endeavored to continuously source and select the best technical expertise.
"When we do encounter operational challenges, we are often able to provide recommended solutions to the original-equipment manufacturer's (OEM's) design team, who can then approve or revert with their own recommendations," Abelho adds, noting that this significantly reduces response times.
Team members are always on standby, which means the dedicated support team can assist with machine maintenance, inspections, installations, commissioning and breakdown, he comments,
The PartsLink department boasts a 24-hour, seven-days-a-week spare and wear parts inventory and support from Pilot Crushtec's complete range of mining equipment, including Metso Outotec, Rubble Master, Generac Mobile, TwisterTrac and Pilot Modular.
"We limit the ranges we supply so that we can provide critical support to products we know and have experience with, and our technicians all have electronics, hydraulics and mechanical experience and backgrounds. This means they have a large knowledge base overall," Abelho says. "For example we're not in the business of repairing diesel motors, but we are trained by the motor OEMs and provide diagnosis and fault-finding that can ensure the operation can move forward."
This premium content availability and support is critical, Abelho adds, as the company has a key role in enabling customers to derive optimal value from their machines, maximising output and minimising downtime as well as reducing operating costs per ton of material produced as much as possible.
One means of reducing cost per ton is to reduce haulage costs, and in-pit crushing enables
customers to benefit from increased haul factors, as well as increased longevity in terms of wear and tear, as customers have the option to haul smaller material, reduce the number of trucks hauling material, which, in turn, improves safety.
The Pilot Crushtec engineers and service teams help customers to plan and predict spares requirements, using their in-depth knowledge of machine performance across various working conditions.
Pilot Crushtec also has a maintenance check on the mobile machines as part of its warranty offering, which means a team will inspect units once every six months or 1000 working hours.
"We've got only three technicians that are certified for this level of inspection, but we've found that one of the main benefits of doing these checks is that the team is able to pick up issues before they become a problem and advise accordingly."
Overall, through purchasing from Pilot Crushtec, clients can "immediately ramp up production and take advantage of short-term opportunities", Abelho highlights.
Product Range
The variety of machines Pilot Crushtec has in its portfolio includes a full range of modular crushers, screens, conveyors, feeders, hoppers and impactors, as well as the Metso range of crushers and screens for both mobile and static applications.
Having been in operations for over 32 years, Pilot Crushtec has a full team of in-house engineers who design, upgrade and develop their own manufactured equipment, which includes two mobile crushers, the DR400 – mobile double roll crushers and the VS350E TwisterTrac, a mobile VSI for aggregates applications.
Pilot Crushtec also has a vast stockholding of spare and wear parts and carries an enormous number of critical spares for Pilot Crushtec and other OEM equipment from Metso, Rubble Master and Generac.
The most popular range in the line-up is the Metso mobile range of tracked crushers and screens, which are well known across the industry as being the most capable and robust.