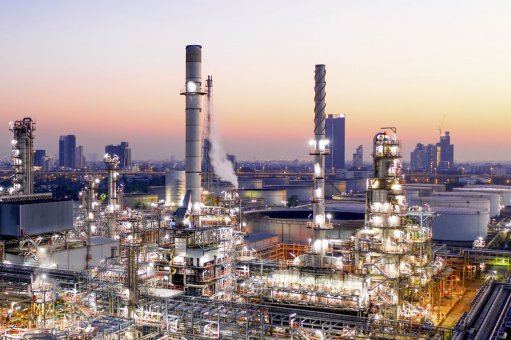 PetroChemical Plant The chemical industry in South Africa is expected to grow.
In spite of chemical supply chain constraints, flow measurement and calibration technology company Wika expects to benefit from its diverse portfolio offering to provide quality instrumentation for clients.
Wika product specialist Sagadevan Kanniappen says the company's comprehensive offering has enabled it to continue supplying some of the global market leaders with instrumentation products.
"We are involved in projects across the various industries. Our products are used at the processing facilities of some of the global market leaders in the chemicals industry. So, the products are found locally and globally; this applies to new and expansion projects, as well as maintenance projects."
Kanniappen says the chemicals industry "makes extremely high demands" on all instruments used in chemical processing.
Wika's electronic and mechanical measuring instruments for pressure and temperature levels that are used for general applications, as well as in potentially explosive areas, have been sufficiently tested to operate safely in aggressive and nonaggressive environments.
He adds that despite the challenges, the chemicals industry in South Africa is expected to grow.
"The industry can be expected to grow naturally, and that's going to improve the supply-and-demand ratio for day-to-day industrial and consumer products, with accelerated growth obviously expected in emerging markets, primarily because of renewable-energy demand."
Although the industry has faced increased supply chain constraints, owing to the Covid-19 pandemic, Kanniappen says Wika's being a solution provider also positions it to grow, despite the supply-chain challenge.
"As a solution provider we strongly look at overcoming challenges, and because we have a diverse portfolio offering, we are able to adapt to the requirements of the industry, as well as to the challenges that the industry poses to us as an instrumentation supplier – that becomes our strength, actually."
He says the company has been using its research and development (R&D) facilities to develop innovative solutions for clients.
"Our R&D facilities enable us to simulate real-life process scenarios, which, in turn, enable us to develop innovative solutions for the most demanding chemical applications. Moreover, we find that most of these demanding applications exist in the petrochemicals and chemicals environments.
"We closely monitor the product life-cycles of our current product portfolios, and we adapt to the dynamic requirements of industry. We are committed to providing state-of-the-art measurement solutions, which can enable our customers to use field measurement data to make high-impact business decisions and optimise bottom-line performance."
Further, the company has continued to expand its measurement solution offering, in line with industry requirements.
He adds that the company's primary objective is to continuously create innovations that result in the growth of trusted measurement technology.
"As the instrumentation becomes more and more intelligent, you'll find that you need companies that are in the measurement instrumentation environment, developing new technologies and investing in the development of new technology. Despite the challenges, as a group, we focus quite a bit on continuous innovation," he concludes.