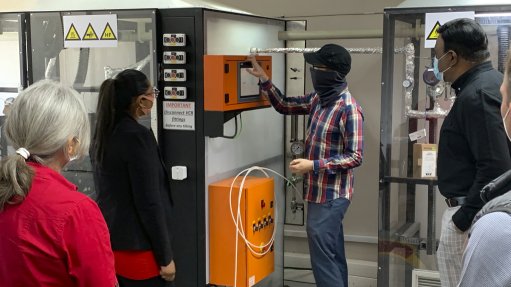 The rare earth fluoride production machine based on intellectual property developed by the South African Nuclear Energy Corporation
Over the past two years, Pretoria-based rare earth (RE) minerals refinery Rare Earth Refiners (RER) has designed, built and commissioned a demonstration plant for the green production of RE fluorides using a R15-million grant from the Technology Innovation Agency (TIA).
REs, and especially neodymium trifluoride (NdF3), are extensively used in the production of permanent magnets used in electric vehicle (EV) and wind turbine electric motors.
REs are also used in EVs for component sensors (yttrium); headlight glass, speaker magnets, windows, seats and ventilation systems (neodymium); liquid crystal display screens (europium, yttrium and cerium); and high-performance batteries (cerium lanthanum).
The manufacture of neodymium metal requires the availability of NdF3.
The development of the RE beneficiation technology started in 2012 by a team at the South African Nuclear Energy Corporation (Necsa) with financial support from the Department of Science and Innovation's (DSI's) Fluorochemical Expansion Initiative (FEI).
RER has been granted the exclusive licence to industrialise the technology.
DSI chemical and related industries director Dr Mahlori Mashimbye says the main drivers of the FEI are the DSI, the Department of Trade, Industry and Competition and State-owned companies Pelchem and the Industrial Development Corporation (IDC).
TIA commercialisation executive Brian Mphahlele says the plant is aimed at leveraging, in the long run, South Africa's RE mineral deposits (fluorspar in particular), coupled with the country's rich fluorination heritage to increase local beneficiation.
South Africa has various sources of RE, including deposits of monazite ore, phosphate ore, fluorite, monazite in heavy mineral sands and in phosphogypsum stockpiles – a by-product of phosphate fertiliser manufacturing.
"The successful demonstration of this technology is in alignment with our objective to ensure sustainability and economic growth through beneficiation of South African raw materials and to industrialise our core technologies," says Necsa acting research and technology development divisional executive Dr Jan Rijn Zeevaart.
PLANT TRIALS
The first process tested using the plant was the production of NdF3 from neodymium carbonate, with a conversion of greater than 99% being achieved.
RER plans to further enhance the plant to gather more information about its process and maintenance over the next few months.
RER CEO Dr Jacobus Swanepoel tells Mining Weekly the process is 'green' because traditional methods of producing NdF3 use wet acidic routes that produce a lot of acidic waste and usually deteriorate the area where it is used.
In place of this, he explains, the RER plant uses dry fluorination technology developed and patented by Necsa, the only by-products being a small amount of water vapour and carbon dioxide.
An additional drive in the technology is to beneficiate other local REs, which are produced primarily as part of certain companies' waste streams. As such, RER's plant would be able to assist miners in beneficiating REs as another by-product.
RER co-owner Dr Ryno Pretorius says he spent the past nine years industrialising this technology and that it was a "dream come true" to progress it from an idea to a successfully operating plant.
In addition to operating the plant, he was also the lead engineer in its design, construction and commissioning. Pretorius holds a doctorate from the University of Pretoria's department of chemical engineering in the fundamental aspects of the RER/Necsa process.
VALUE CHAIN ADDITION
Meanwhile, Swanepoel notes that, although more than 85% of the world's RE market is owned and controlled by China, South Africa holds the potential to supply more that 10% of global RE demand.
In this regard, he says that, with the RER plant and Necsa technology, South Africa now possesses the technological expertise and raw materials for the establishment of a full value chain - from mining to end-product - electric drivetrain industry.
In addition, the use of REs in permanent magnets for use in EVs also forms part of the IDC's Mine-to-Magnets initiative. The IDC also supported the RER funding application to the TIA.
IDC COO Joanne Bate explains that the development of a vertically integrated RE value chain is an integral part of the IDC's strategy to enhance South Africa's industrial and technological base.
"We work closely with the Department of Mineral Resources and Energy, Mintek and other key partners to develop projects that derive sustainable benefits from the country's mineral wealth."
She adds that the IDC looks forward to a continued collaboration to further beneficiate RE resources using South African technologies and capabilities to produce advanced materials and value-added products.
"These RE elements, containing products such as neodymium magnets, are in demand globally and are essential for new energy vehicles' traction motors, wind turbines and many other new technology devices."