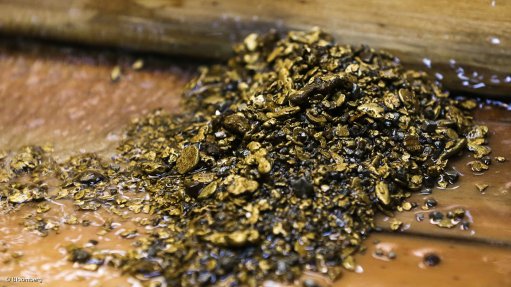 GOLD Over the coming months, Tudor Gold hopes to gain a better understanding of aspects that control gold mineralisation
Photo by: Bloomberg
Exploration company Tudor Gold has confirmed the presence of a substantial new gold zone, which has been named Goldstorm, at Treaty Creek, in the Golden Triangle region – one of the most important mineral districts of north-western British Columbia, Canada.
It was previously thought that gold mineralisation identified by drilling north-east of the Copper Belle zone was simply a north-east extension of that same zone, but after evaluating drill hole data from holes completed in 2016, 2017 and last year, it appears that the mine- ralisation encountered to the north-east of Copper Belle has different characteristics, configuration and geometry. While it is unclear whether the zones are genetically linked, these zones are physically separate.
"Goldstorm is a much larger system than Copper Belle, it is at least 300 m wide and extends vertically for more than 700 m. The zone has been traced for about 500 m along a north-eastern azimuth," explains Tudor Gold exploration manager Ken Konkin. Gold mineralisation appears to be continuing towards the north-east and south-east and clearly becomes stronger in the northernmost hole, CB18-39, which returned 563.8 m of 0.981 g/t gold. The upper portion of CB18-39 averaged 1.141 g/t over 280.5 m.
"This hole bottomed in mineralisation and we will look at the option of re-entering the hole this year in attempts to extend the mineralisation deeper. However, the primary focus will be to extend the Goldstorm zone along strike to the north-east and to the south-east as well."
Over the coming months, the company hopes to gain a better understanding of aspects that control gold mineralisation, he notes. Re-examination of drill hole information has revealed the presence of a north-west dipping thrust fault that appears to define the upper contact of the Goldstorm system. The relationship of this fault to the formation of the mineral zone is an aspect of further study, as are the various styles of sulphide mineralisation, silification and alteration, states Konkin.
"Compilation and evaluation of this data will help in planning for the drilling campaign to be undertaken in the upcoming exploration season," he concludes.