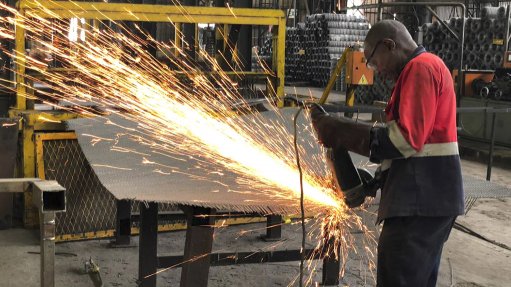 STEELY SPARKS The amount of steel used in products used in mine support systems such as screen mesh Central Africa Copperbelt has increase exponentially
The average monthly turnover and tonnage throughput of Zambia-based steel product supplier Afrope Zambia has increased sixfold since its acquisition by South African logistics and trading company Inter Trade Africa in 2019.
The company has expanded its product offering to the mining consumables arena, particularly the underground roof support market, on the Central African Copperbelt.
Afrope Zambia is the only manufacturer of screen mesh in Zambia, a critical product in the processing of copper.
"Our local client base, along with the business's ability to trade raw steel inputs in Zambia, has grown sufficiently to allow for a branch in the Zambian capital, Lusaka, to be opened last year," Afrope Zambia GM Tim Krause tells Mining Weekly.
Afrope Zambia's footprint has also expanded to service the Democratic Republic of Congo (DRC) market in mining consumables and general steel trading, increasing business turnover significantly.
Krause adds that its geographic expansion in Zambia, to cover the rapidly expanding Lusaka market, has proven fruitful.
"Afrope Zambia also supplies winder ropes to many of the mines on the Copperbelt, performing a vital service as specialised steel supplier Haggie's in-country agent."
He adds that Haggie also makes specific pendant ropes for the large openpit mining shovels, as well as crane, hoist and winch ropes.
Many varieties of general and specialised steel are used in the shaft mechanics as well, including wear plate, dewatering pipes and structural steel sections, he explains.
"We pride ourselves on offering specific project solutions to the mines directly, as well as to their mining contractors."
Further, as the mines develop, they use high tonnages of underground roof support, general-purpose ropes, chains and lifting equipment – all of which the company provides as part of its customer-specific solutions.
Tough Terrain
Krause says the African continent hosts a mix of business styles from all over the world competing for contracts and clients, but "Afrope navigates these challenges by forging strong relationships with clients and trusted suppliers".
He stresses that a company must fully understand clients' financial and legal constraints and, where possible, decrease these burdens by offering flexible credit terms.
Importantly, many of the product end-users face even more complex environmental and power-related constraints; therefore, investing and holding stock in the country is crucial.
To assist clients, Afrope Zambia has invested in building a capable sales and operations team.
It has also invested heavily into technology, enabling it to make quick, well-informed decisions and react to the ever-changing landscape.