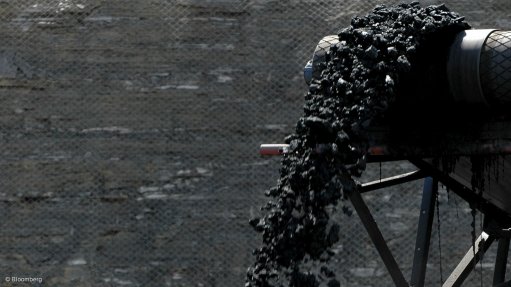 SECOND CHANCE The trend of returning to underground mines and turning them into opencast mines is a cost-effective alternative to exploration
Photo by: Bloomberg
Forsaken underground coal mines are increasingly being reopened using opencast mining methods, according to independent mining advisory group Ukwazi senior mining engineer Adriaan Strydom, who tells Mining Weekly that this practice is effectively enabled through increased mechanisation.
While an underground coal mine was typically dismissed or abandoned once mining activities were complete, this is changing, he notes, explaining that mining companies use a specific technology to mine the remaining pillars, once they are labelled to be depleted.
He adds that, essentially, converting a closed underground mine into an opencast mine is much more cost-effective than starting with coal exploration in a new area.
Ukwazi director Jaco Lotheringen adds that the company has been involved in several such turnaround projects in South Africa, where underground coal mines that were active from the 1940s to 1980s are being reconsidered for opencast mining. He reports that some of these projects are already under way and that Ukwazi is involved in similar projects in neighbouring countries.
Ukwazi legal mining specialist Spencer Eckstein, who describes the transition from underground to opencast as "rehabilitating an underground operation", highlights the positive impact that opencast mining can have on a mined area, as some operations require dewatering, water treatment and tramp removal.
Meanwhile, Lotheringen attributes the rise of this trend to changes in mining technology, as well as an increased focus on efficiency and economics. "In a traditional mining operation, you might leave approximately half of your coal behind, whereas if you adopted opencast mining methods, the remaining half can be recovered," he explains.
Fragmentation and Skills Gap Challenges
While Strydom believes that the conversion of previously closed underground coal mines into opencast mines is integral to the industry, he highlights the fluctuating coal price as a significant challenge still facing many coal miners. "Two years ago the price of coal was just too low, and companies were struggling to survive." Since then, coal prices have rebounded and the commodity seems to be in a healthier situation, Strydom affirms.
Having a constant coal price that is more in line with production costs would be ideal, but remains unrealistic for the coal mining industry, he adds. "It's a challenge, especially because coal is a volume game and people in the industry struggle to maintain a constant business, owing to mining's capital-intensive nature. Suddenly, the coal price drops and your revenue drops – and you still need to maintain certain capital investments that you just cannot afford."
Lotheringen adds that, as a result of the capital-intensive nature of the industry, mining complexes that are depleted or too capital-intensive to expand, are forced to close. This is exacerbated by coal supply from neighbouring countries at a potentially cheaper rate.
Strydom highlights this as another challenge that will become significant in the next few years, and one that will put further pressure on the local coal mining industry.
He explains, however, that independent power producers (IPPs) entering the power generation market will make a marked difference and possibly mitigate competing coal prices from other African countries. "Independent players coming into the power-provision equation could change the dynamics of the whole environment in a positive way, within the approved regulatory framework."
Lotheringen adds, however, that while IPPs have a positive effect on diverse energy sources, they also pose a risk for industry. He explains that the fragmentation of the coal industry into smaller players highlights the critical technical skills and infrastructure gaps in the mining industry. This means that IPPs may adversely affect the availability of appropriate technical skills and structures needed to provide the most suitable coal at the right time for clients. As a result, State-owned power utility Eskom has had supply issues, which could worsen as the industry becomes increasingly fragmented, says Lotheringen.
He adds that the way to establish transparency and accountability in the fragmented coal supply space is to enforce certain minimum requirements on the basis of estimated and approved technical processes, driven by skilled and experienced technical teams. "If the end-user or client ensures that certain processes are followed and the bidder for those contracts knows beforehand what the requirements are, they will need to conform to those requirements, such as on-site technical capabilities and production management systems, before they are awarded contracts," Lotheringen says.
He notes that the skills gap is exacerbated by South Africa's skilled mining employees finding work outside of South Africa. To mitigate this, Lotheringen suggests that skills must be transferred to future employees so that important information and experience are not lost.