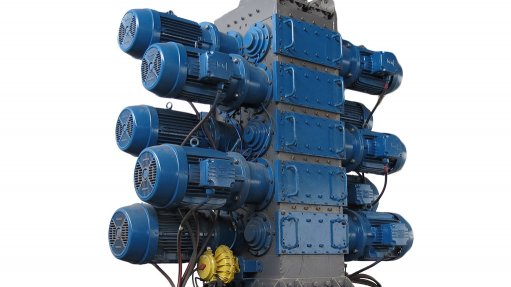 EDS MULTISHAFT MILL The EDS Multishaft Mill can be applied in a wide variety of industry sectors, including mining, waste management, construction, environmental rehabilitation, agriculture and general milling. The mill is currently available in 10, 6 and 4 shaft models
Crushing and milling equipment developer Energy & Densification Systems (EDS) completed pilot projects in the cement and chrome industries in June. where it successfully implemented its Multishaft Mill.
The EDS Multishaft Mill can be applied in a wide variety of industry sectors, including mining, waste management, construction, environmental rehabilitation, agriculture and general milling. The mill is currently available in 10, 6 and 4 shaft models.
Chrome plant
EDS was approached in November 2014 to set up and implement its Multishaft Mill on a chrome plant, where the mill had to be retrofitted into the existing infrastructure.
EDS sales and marketing director Jeff Wain tells Mining Weekly "the results of this project were great", adding that the client is subsequently considering an additional location at which to implement another EDS mill. The mill at the chrome plant averaged 60 t/h for the duration of the project, with about 5 000 t of –30 mm material having been fed into the mill, which produed a 65% in specification –1 mm product in a single pass.
However, he notes that, as a result of the mill being retrofitted into existing infrastructure and having to deal with a surging feed, it operated at a reduced capacity, whereas it could run at 100 t/h.
"Chrome is a key industry for us and we've done a lot of different tests for various mines and they've all been phenomenal, with up to 90% in specification in a single pass," he notes.
In the chrome industry, EDS has also successfully milled ferrochrome slag, which is considered to be a difficult material, as it is abrasive and a hard material to mill.
Cement Project
EDS was also approached in December 2014 to mill 'raw meal' using the Multishaft Mill at a cement plant in the Cape. A ball mill was running at the plant, but it was limited in terms of production output.
As a result, the company was required to take a portion of the feed, premill it and then send the milled material back to the plant to increase production and optimise use of current processes. Further benefits included lower overall operating costs with small investment capital.
The Multishaft Mill was retrofitted into the plant's current operations and managed to produce 5 000 t at 60 t/h with a P80 of about 4 mm and about 15% in the –90 µm range. The retrofit did, however, result in certain restrictions, which posed a challenge, as the product was not directly fed into the ball mill, but was transported from the EDS mill to the plant's classifier before being sufficiently dried. The mill was also processing much larger material than the specified input top size, which further proved reliability and versatility.
Advantages
The Multishaft Mill is flexible, which allows for rapid variation in mill settings to allow for a change in material specification or milling requirements. The top size of material it can be fed is 40 mm; however, from there, it can be reduced to any range down to 45 μm.
"At the chrome and cement projects, one of our biggest advantages was that the mill was energy efficient," comments Wain. He says the mill used at the cement plant operated at 3.5 kWh/t, which "is nothing", as a ball mill would operate at four times that energy consumption, with the mill at the chrome site plant having operated at 2 kWh/t, which "is hugely beneficial, considering the energy issues that South Africa is facing".
The mill also has relatively little total installed power, with the largest unit having 178 kW of total installed power distributed among ten motors. Each motor is started individually, so there is no need for a massive draw of power, which also means the mill can be operated using generators if needed, Wain adds.
"Although the chrome and cement pilot projects, and their specifications, were very different, retrofitting our technology was easy, which is an advantage because the mill has such a small footprint," he says.
Upcoming technology
EDS is designing a trailer and modu- lar unit to make its technology more mobile and it hopes to have this completed by early 2016.
"We are receiving quite a lot of interest from Africa, as a result of the continent's restrictions regarding electricity, water and the general climate. "Our mill being mobile means that you can deploy it relatively easily. You can also operate it completely 'dry', without water, which is a great advantage," Wain explains.
For example, an EDS client in Southern Africa discovered satellite orebodies around its open-pit mine. This poses a challenge, as the ore has to be transported several kilometres to the main processing plant.
However, the EDS Multishaft Mill, on a mobile setup, can be taken directly to the satellite orebodies, where a small plant can be efficiently operated and moved to the next orebody once that one has been depleted.
"We can crush and mill material down basically to specification on site at the source, where the company has options: either slurry it through to the processing plant, or screen or upgrade at the site, sending through only that which is required for processing, reducing overall operating and transport costs," Wain concludes.