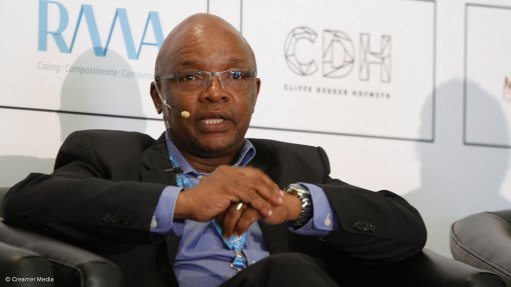 AngloGold Ashanti chairperson Sipho Pityana
JOHANNESBURG (miningweekly.com) – AngloGold Ashanti chairperson Sipho Pityana has urged South Africa's mining lobby, the Chamber of Mines, to stay away from Mineral Resources Minister Mosebenzi Zwane, whom he accused of not being committed to South Africa's mining industry.
"I fully endorse that the Chamber of Mines stays away from that crook. The President has appointed a joker. Zwane is not committed to the industry and all he wants to do is loot, steal and undermine it," he said as part of a panel discussion on transformation in the industry at the Joburg Indaba on Tuesday.
The Gordon Institute of Business Science's Professor Nick Binedell, who was also part of the panel, said that the State was the arbitrator, decider and regulator of the nature of "the game" and that "the State had messed up the [mining] industry."
"Industry doesn't have leadership to look at for guidance. We're in a log-jam, I don't know what progress we are going to make," he said.
On the topic of transformation, Binedell pointed out that, even though the mining sector formed the foundation of the country's economy, the industry had lost an understanding of what needed to be done in terms of transformation.
"There seems to be folly [within the sector], miscalculating our own interest even though we should know better. Somehow, we haven't grasped enough of the whole picture to take the action that we need to [implement transformation]," he said.
He added that the mining industry should not only diversify by race, but by gender too.
Pityana, meanwhile, highlighted that most mining executives were white, and questioned why industry had failed to produce and invest in black leadership.
"The legacy of the migrant labour system continues to affront us. If we followed through on what the Mining Charter produced, it would have demonstrated that [transformation] has not been achieved across the board," he said.
He added that some mining companies were relics of the past and that they needed to be confronted. Further, the mining industry needed to undergo a great deal of introspection to see how it had generated so much distrust.
Also speaking on the panel, Anglo American deputy chairperson Norman Mbazima said that, to have a transformed sector, it was important to know what transformation looks like.
"We tend to just talk about ownership, but we are on a journey and we need to get to a final destination. We need to get money into the mining industry and focus on ways to get people to invest and build new mines in the country. We need to share the revenue, not just the profit," he said.
Mbazima highlighted that the mining industry of the future should focus on value that is shared equitably.
"We need to look at widening income disparities in the mining industry. We must ensure that industry is a preferred investment destination. We also need to reflect on changing our labour model. We need a mining industry that is skilled, characterised by high levels of efficiency, productivity and compensation."
He added that the industry was still trapped in a legacy of large numbers, with less skilled people who were not productive and not competitively compensated.
"It is critical to change that," he said.
He added that mining was a finite resource and that South Africa's mining industry had to be globalised.
"We are a major mining country and we must imagine ourselves being multinational companies that focus on mining overseas instead of South Africa. We need to start looking forward. We are making great strides, but we need a clear picture of where we need to be today. As an industry we are not doing that well enough," he said.