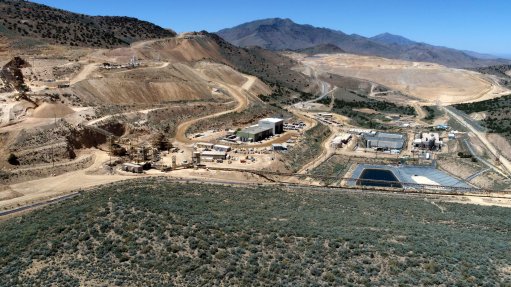 The Rochester operation in Nevada
US-based Coeur Mining on Monday announced several milestones at its major Rochester expansion project, in Nevada, including the production of the first silver and gold ounces.
Following a ramp-up period expected to last into early 2024, Rochester is expected to drive a step-change in the company's overall production levels, cost profile, and cash flow.
Named Plan of Operations Amendment 11, or POA 11, the expansion project comprises a Stage VI Leach Pad, Merrill-Crowe process plant, crushing circuit and related infrastructure.
POA 11 will extend Rochester's mine life for 13 years. The mine represents 11% of Coeur's gold production and 31% of Coeur's silver production.
Metal production from the new Stage VI leach pad and Merill-Crowe process plant leach began mid-month with initial doré poured on Monday. About one-third of the eight-million tons of ore on the new pad were currently under leach.
With the primary gyratory crusher installed, construction of the new three-stage crushing circuit is substantially complete, Coeur said. Once fully ramped up, throughput is expected to average 32-million tons a year, which is about two-and-a-half times higher than historical levels, making Rochester one of the world's biggest openpit heap leach operations.
Further, Coeur reported that a multi-day test of truck and loading capacity was completed earlier this month to ensure that the mine could support the higher throughput rates associated with the newly configured Rochester circuit. This test confirmed the mine's ability to safely support the designed capacity of up to 100 000 t/d in 2023 and up to 132 000 t/d in 2024.
"The achievement of these three critical milestones marks the beginning of a new growth phase for Coeur," said president and CEO Mitchell Krebs.
The focus is now shifting to commissioning, ramp-up, and mine optimisation initiatives, as well as prioritising several adjacent exploration targets located on Rochester's prospective 69 square mile land package.