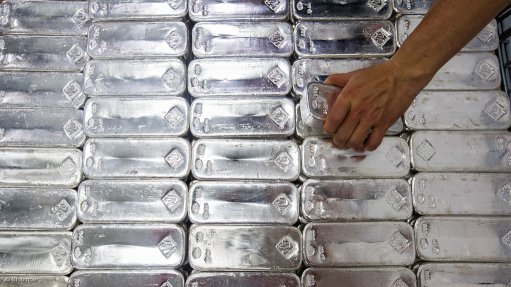 Photo by: Bloomberg
TORONTO (miningweekly.com) – The US's largest primary silver producer Coeur Mining on Wednesday announced that it had agreed to buy Paramount Gold and Silver for $146-million in scrip, giving Coeur control over Paramount's San Miguel project that covers about 121 000 ha surrounding Coeur's Palmarejo mine, in Chihuahua, Mexico.
Paramount's exploration work at San Miguel had defined four main precious-metal-bearing structures, of which the Don Ese deposit extends across a shared property boundary onto Coeur's land-holdings at Palmarejo and is located about 800 m from Coeur's Guadalupe deposit, which is currently being developed.
"I think it's a great transaction for both sets of stockholders. It does a lot for us in terms of addressing some market concerns such as our cost structure, while boosting liquidity and cash flow over the next several years. It gives us some near-term, high-quality, low-capital growth in production and really solidifies the future of what has been and continues to be, one of our cornerstone assets – Palmajero," Coeur president and CEO Mitchell Krebs told Mining Weekly Online on Wednesday.
The Don Ese deposit consists of significantly higher-grade silver and gold mineralisation than Guadalupe, and is not subject to any nongovernment third-party royalty or stream obligations.
Coeur said that Don Ese represented the south-east extension of Coeur's Independencia structure, and the company planned to develop Don Ese by a 1 000 m decline next to the existing Guadalupe surface infrastructure, at an initial cost next year of about $15-million.
Krebs expected initial production at the end of 2015, with Don Ese producing an average of 1 600 t/d during 2016, and ramping up to steady-state production of about 2 500 t/d of ore by the end of 2017.
Palmarejo's 6 000 t/d processing facility was expected to have excess capacity from next year, as openpit production winds down and mining activities transition underground at Guadalupe. As part of its diligence on the Don Ese deposit, Coeur expected recovery rates of about 80% for silver and 95% for gold from the deposit.
Coeur anticipated the combined Don Ese and Guadalupe deposits could produce an average yearly output of about six-million ounces of silver and 110 000 oz of gold over the next eight years.
"By adding Paramount's San Miguel project and particularly the Don Ese deposit to the ongoing mining activities at our Guadalupe deposit, Palmarejo will be well-positioned to remain one of the world's top producing silver and gold mines with significantly higher grades and lower costs," Krebs said.
"Paramount's Mexican assets strengthen the long‐term viability of Palmarejo throughout the price cycle and enhance Coeur's growth profile. We expect the transaction to lower our overall unit costs, improve our free cash flow in the current metal price environment, and provide near-term growth while preserving our liquidity," he added.
With the San Miguel acquisition, Coeur gained a total of 47 525 short tons of ore grading 1.62 g/t silver and 0.024 g/t gold in the combined measured and indicated reserve categories. The Don Ese deposit accounted for a total of 3 754 short tons grading 6.24 g/t silver and 0.082 g/t gold in the measured and indicated categories combined.
OPPORTUNE TIMING
The transaction has been a long time in the making, Krebs noted.
He explained that Coeur had first set foot on Paramount's San Miguel project in 2007, when it acquired Palmajero, and from then got to know Paramount increasingly intimately.
"We have always recognised it as being an obvious combination, but the timing for a strategic acquisition just never really presented itself until now.
"Paramount had driven the project to have a very well-defined and significant resource there," he said.
'BLUE SKY' POTENTIAL
Krebs pointed out that Coeur had identified significant additional exploration potential on other high-grade structures near the shared property boundary.
"The acquisition gives Coeur 'blue sky' potential at the Palmajero mine," Krebs said.
Paramount's San Miguel project also contains several lower-grade deposits that could benefit from cost savings associated with Palmarejo's existing infrastructure and provided Coeur stockholders with optionality on any future increases in silver and gold prices.
"It is a massive package that not only contains a significant amount of silver and gold that is already defined as resources, there are a lot of targets still to be tested. While we also have underexplored targets at Palmajero, this adds to that potential.
"I am very comfortable in saying that beyond the eight years that we have now defined ahead of us, there is a potential to add a significant amount of material with drilling. We'll be there for long time still," Krebs said.
Under terms of the acquisition agreement, Coeur would buy each share of Paramount for 0.2016 of a Coeur share. Paramount shareholders would also receive a pro rata share of the new spin-off company, which would be capitalised with $10-million in cash from Coeur.
Once the deal had closed, Paramount shareholders would hold a 95.1% stake in the spin-off company, and a 24% stake in Coeur. Coeur would also hold 4.9% of the newly formed company.
Coeur's offer represented a cash value of $0.90 for each Paramount share, based on the 20-trading day volume weighted average price (VWAP) of Coeur on the NYSE on Tuesday. It also represented a 19.8% premium to Paramount's 20-day VWAP of $0.75 a share.
NSR DEAL
Meanwhile, in a separate transaction, aside from the Paramount acquisition, Coeur had paid Paramount $5.25-million for a 0.7% net smelter return (NSR) royalty from Paramount's San Miguel project.
Krebs explained that Coeur did not want to wait between now and the expected transaction closing date of around April to be able to continue to advance the San Miguel property package, and one way to influence the project was to provide Paramount with some additional funding, so that Paramount, under Coeur's clear direction on how it would like to see that money spent, could continue drilling and do other work that would benefit the new proprietor.
"If and when the deal does close, we could just cancel that royalty, or, we could continue to hold on to it and put it into our royalty and streaming business – Coeur Capital –as we mine from Don Ese and the San Miguel property package over time, but we have not yet decided on that.
The deal was expected to close in the second quarter of next year, subject to shareholder approvals, Mexican antitrust clearance and other customary closing conditions.
Coer's NYSE-listed stock on Wednesday lost just more than 5% in value to close at $4.34 apiece, while Paramount's NYSE MKT-listed stock gained almost 30% at $0.83 apiece.