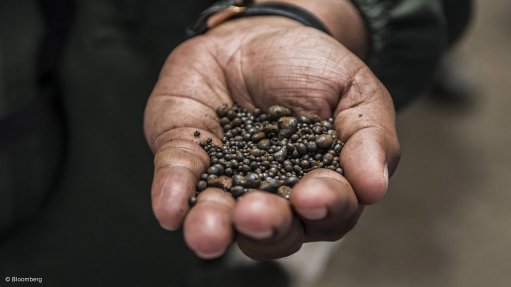 SECURING SUPPLY The DRC is the world's largest producer of mined cobalt. Most intermediates produced in the country are exported owing to the lack of refining capacity
Photo by: Bloomberg
Demand for portable electronics, energy storage and electric vehicles will create significant demand for lithium-ion batteries, and the Democratic Republic of Congo (DRC) will be a critical supplier of raw materials used in these technologies, particularly cobalt, states international metals and minerals consultancy Roskill director Jack Bedder.
With significant cobalt demand expected over the next few years, original-equipment suppliers (OEMs) are intending to "secure raw material supply chains beyond just 'cell-and-pack' manufacturers to reduce supply-chain risks, as well as protect market share targets", he points out.
"This is expected to result in further involvement in raw material production and refining by OEMs this year, with their signing long-term supply agreements to lock up large portions of supply."
The DRC has the largest cobalt resources in the world, hosted within stratiform, vein and scree deposits, as well as enriched oxide ores such as heterogenite.
Bedder says the US Geological Survey reported total reserves in the DRC of 3.6-million tonnes in 2019, representing more than 51% of global reserves.
The DRC is currently the world's largest producer of mined cobalt, which is extracted as a by-product of copper.
Bedder adds that additional sources of feedstock include cobalt-bearing tailings heaps, which have built up over decades of extraction in the country.
Together, these sources yielded an estimated 96 000 t of contained cobalt in 2020, comprising 66% of global supply.
"A large portion of the cobalt mined in the country is converted into alliage blanc and crude cobalt hydroxide using pyrometallurgical and hydrometallurgical processing respectively. Production of cobalt intermediates was about 90 000 t last year – 68% of global production – positioning the DRC as the largest producing country of cobalt intermediates globally."
He highlights that the majority of intermediates produced are exported, owing to the limited refining capacity in the country.
Further, in its peak year of refined production, in 1974, the DRC produced more than 17 500 t of refined cobalt metal, more than half of the global total at the time. Since then, however, political, economic and social problems have significantly affected the sector.
Following diversified miner Glencore's shutdown of its operations in Katanga province in 2017, and the recent suspension of mineral processing company Chemaf's Mutoshi processing plant, there has been little to no refined production since 2017.
Policy Changes
Bedder argues that, with the country's wealth in resources, including copper, cobalt and lithium, its mining sector needs to "strike the right balance between protecting its workers and domestic interests while attracting investment from abroad".
He specifically points to changes in the country's mining code in March 2018, adding that they are unpopular among foreign miners operating in the country.
Former President Joseph Kabila implemented the changes, which increased the royalties on copper, cobalt and gold. Under these new laws, first made public in December 2017, royalties on copper and cobalt increased from 2% to 3.5%.
On December 3, 2018, the DRC government declared cobalt a "strategic" mineral through a decree signed by former Prime Minister Bruno Tshibala; this officially raised the royalty rate of cobalt to 10%.
Further, a new 50% "super profits tax" would be imposed when the relevant commodity price rose by more than 25% of the projected levels in the bankable feasibility study of a mining project.
Other key changes included an increase in the State's free carry in mining projects – from 5% to 10% – as well as a reduction in the stability period during which taxes and customs could not be modified – from ten years to five years.
"Since the enforcement of the mining code, miners in the country have partnered to negotiate with the DRC authorities regarding the disputes around the new mining code," says Bedder.
In August 2018, industry body the Mining Promotion Initiative was formed by the major miners operating in the country. This initiative intends to "serve as a bridge between the country's mining sector and government to find solutions for concerns over the new mining code, as well as other issues in the industry".
The organisation also represents mining companies that account for more than 80% of the copper and cobalt output, including miners China Molybdenum, Glencore, Zijin Mining, Ivanhoe Mines and MMG Limited.
While many disputes remain unresolved, despite several negotiation attempts with government, a group of miners are still hoping to encourage the DRC's new President Felix Tshisekedi to modify the mining code.
However, during his speech at the Mining Indaba in February 2019, DRC Mining secretary-general Joseph Ikoli stated that there would be no further debates on the code, as it had been approved by Parliament, and was now enshrined in law.
"Despite this resistance, production will likely continue as is, even if lobbying endures," Bedder concludes.