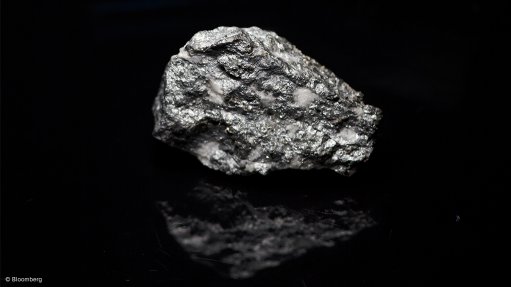 Photo by: Bloomberg
The global cobalt industry is set to receive a significant boost and upward price trajectory in the next two to three years owing to a worldwide shift to a green economy, reports financial risk management, solutions and insights company Fitch Solutions Country Risk and Industry Research (Fitch Solutions).
The metal is a key component for rechargeable batteries and is valued for its stability, hardness, anti-corrosion and high-temperature resistance characteristics.
Used historically as a pigment because of its luminous blue colour, the metal's main current use is in the precursors and cathodes of rechargeable batteries – making up 56% of total consumption as of 2021.
Employing cobalt as the cathode of rechargeable batteries efficiently improves their energy density, power and performance as compared to batteries that do not contain cobalt.
Cobalt is also used in the manufacturing of nickel‑based alloys (13% of total consumption), which are used extensively in the aerospace industry, and tool manufacturing (8% of total consumption), while smaller amounts are used in pigments, soaps and as catalysts.
The end use of cobalt is primarily in portable electronics (36.3% of global consumption), such as smartphones and laptops, while automotive applications also account for a big share (23%).
"We expect the latter to drive cobalt demand in the coming decades," says Fitch Solutions.
As for cobalt sulphate prices, Fitch Solutions expects these to remain on an uptrend in the coming two to three years as demand from battery manufacturers continues to outstrip supply despite a healthy pipeline of cobalt sulphate projects set to come online between 2023 and 2024 onwards. This will support production and investment into new projects.
Driving demand for global cobalt sulphate in the short to medium term is China's accelerated new electric vehicle (EV) uptake, while increasing EV penetration in Europe in the coming decade will support demand over the longer term.
While Fitch Solutions expects a production boost to occur from existing projects in the pipeline coming online in the next three to five years onwards, the firm notes that prices will remain on an upward trajectory as demand will also accelerate in tandem.
In the short to medium term – 2022 to 2024 – Fitch Solutions expects cobalt sulphate prices, and in turn the intermediate cobalt oxide, to receive a strong boost from steadily increasing demand, while the production outlook remains largely stable.
In December 2020, the firm noted that cobalt sulphate (at a grade of 20.5%) prices were hovering at about $14 494/t, while cobalt oxide (72% grade) was about $52 491/t.
While lower than the highs of $15 400/t and $53 631/t for sulphate and oxide, respectively, reached in March 2021, prices are significantly higher than the levels seen at the start of 2021 and in the whole of 2020. This was largely a result of a strong demand boost from China, where 1.8-million new EVs were produced during January to August 2021 – a 193% increase from the same period in 2020.
Beyond 2024, Fitch Solutions expects cobalt sulphate prices to head higher as demand from EV batteries continues to rise. Increased battery demand for automotive manufacturing will be accompanied by strengthened demand for cobalt.
Further, while the firm holds an optimistic view on new cobalt projects that are expected to come online in the next decade, it highlights that there are risks to the completion of these projects.
As such, Fitch Solutions reports that many such projects are still in the prefeasibility stage, especially in Australia, and may not reach fruition in the end owing to a lack of finance or environmental opposition for instance. Global cobalt projects are also likely to face environmental scrutiny.
PRODUCTION & REFINING
Cobalt mining is highly geographically concentrated, with a single country – the Democratic Republic of Congo (DRC), accounting for 67% of the global supply in 2020.
DRC cobalt is susceptible to high supply chain risks as there are concerns linked to the DRC regarding political stability, labour issues, corruption and transparency.
The next largest producers – Australia and Russia – account for just 4% of global cobalt mine output each.
Cobalt refining is also highly concentrated in a single country, China, which will broadly remain the case going forward, the firm states.
In this regard, Fitch Solutions points out that there are new cobalt refining projects under way globally which will work to reduce China's market share to a limited extent.
China accounts for 66% of global refined cobalt output, followed by Finland (10%). Both countries rely on imported feedstock from the DRC for their refining operations.
Cobalt recycling (mainly from the recycling of batteries) is also a fast-growing and important source of cobalt feedstock to the supply chain, says Fitch Solutions.
The firm notes that the main impediments to a smooth supply chain dynamic for cobalt is the lack of transparency in the cobalt market and limited refining capacity outside China, which will continue to pose challenges even if actual global supply is sufficient.
In addition, the cobalt supply chain is increasingly mired with ongoing concerns over environmental, social and governance risks, states Fitch Solutions.