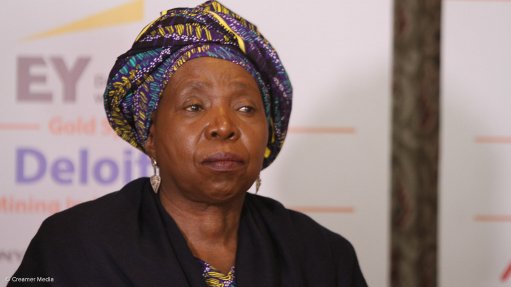 AU chairperson Dr Nkosazana Dlamini Zuma
Photo by: Duane Daws
JOHANNESBURG (miningweekly.com) – Coal will be part of Africa's energy mix owing to its availability, cost advantage and ability to generate much-needed electricity, says African Union (AU) chairperson Dr Nkosazana Dlamini Zuma.
Zuma, who was speaking to journalists during a media conference in which Creamer Media's Mining Weekly Online participated at last week's Junior Indaba, makes it clear that coal will play its part on the continent, in spite of the global trend to move to alternative sources of energy, given its cost.
Her view is that it would be unrealistic to expect that Africa could develop without using coal.
"It's there, it's cheap, it can be used to generate electricity," she emphasises, adding that it behoved the continent to use what it had to industrialise.
"But, of course, as the technology for solar power and wind energy become cheaper, we must increase that component of electricity generation. Hydro is clean energy and we must also use that.
"But in the foreseeable future, coal will be part of the energy mix. I don't think it should be the sole source of energy but it will be part of the mix," she insists.
Nigeria is targeting 30% coal-based electricity and investment is being invited in exploration for coal in the West African country.
Mining Weekly Online can today report that the AU is to launch an African Minerals Development Centre in an attempt to ensure that African governments are better equipped to negotiate better mining and exploration terms and contracts.
Through the centre and its related mooted African commodity strategy, Dlamini Zuma hopes to change mind-sets and to increase the value add to Africa's natural resources from 15% to at least 30%, which she expects to facilitate the creation of at least seven-million jobs on the continent in its first year of implementation.
In order to implement this strategy Dlamini Zuma called on the mining and education sectors to invest in much needed skills particularly in science, technology, engineering and mathematics.