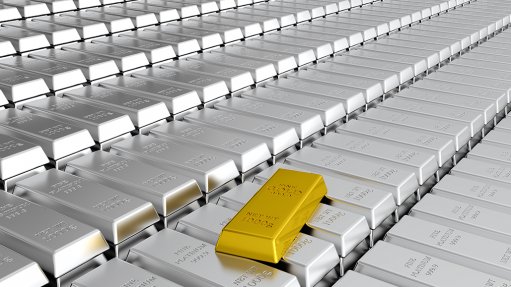 GREATEST BAR BY FAR Platinum sales have been the largest contributor to junior mining revenue over the last year
Junior miner-generated revenue in 2022 proportionally exceeded that of other South African mining-generated revenue, according to Minerals Council South Africa junior and emerging miners desk lead Grant Mitchell.
He points out that South African mining contributed about R1.2-trillion to the country's economy in 2022; junior mining contributed R88-billion to the economy in 2022, rising from R55-billion in 2018.
"The two largest growing commodities being mined by junior miners were those of platinum and coal," says Mitchell.
He adds that the upward trend is due to reach a plateau as demand stabilises after a spate of global political events which have affected supply and demand throughout the mining sector.
Mitchell says the figures quoted have been generated by the Minerals Council's economic department with information being drawn from State-owned statistics provider Statistics South Africa, as well as other sources.
Hard Task
Minerals Council South Africa, a mining policy lobbying group, says the junior mining sector is currently facing the same issues as other larger mining houses and the South African industry as a whole.
This includes a lack of logistical infrastructure as well as the ever-persistent energy crisis facing South Africa currently.
He says the Minerals Council is currently engaging with rail stakeholders and power providers at boardroom level to try and help mitigate, or at least lessen, the negative effects both have on the mining sector.
"All industries rely heavily on both for a successful and profitable operation, and even larger more established companies are bearing the brunt of the crisis, prefixing that the industry lost an estimated R50-billion in revenue in 2022 owing to challenges with transport logistics", adding that this makes it challenging for juniors to operate successfully.
He adds that it is equally important as a council to negate and investigate any form of obstructionism, as well as any other forms of irregularity, which might occur in the licensing application process to which junior miners are subjected.
This includes that for environmental, social and governance compliance as well as various compliance documentation that might be required for a junior miner to have the licence to operate.
He adds that the continued provision of networking capabilities, as well as access to information, are gradually improving the junior mining sector.
South Africa's regulatory framework, the Mineral and Petroleum Resources Development Act is currently under review by the Department of Mineral Resources and Energy.
It is important that it maintains some form of consistency and does not deviate too far away from when it was promulgated in 2002.
"Policy stability leads to investor confidence," he stresses.
Botswana for example, has had the same regulatory framework in place since 1998 and is one of the top mining destinations in Africa, says Mitchell.
Making Progress
"Our most critical project at the moment is the implementation of the cadastral system, which is finally in the stages of procurement," says Mitchell.
A cadastral system is a comprehensive recording of the defined mineral deposits, mineral distributions and mineral tenements in a country.
Therefore, an online mining cadastral system is an important means of gaining investor confidence and, consequently, promoting mineral exploration. "Having the information on hand, which is up-to-date and correctly captured, will streamline the exploration process greatly," he says.
Meanwhile, the Minerals Council has introduced a capacity-building mentorship programme, which enables junior miners to benefit from the experience of its larger member companies for advice, suggestions and legal assistance.
The mentorship programme, implemented in August 2022, comprised five major mining houses who are Minerals Council members, offering senior executives as mentors for the junior miners, should they request assistance.
Mitchell concludes that imparting critical knowledge to junior miners will even further increase its revenue beyond its current figures.