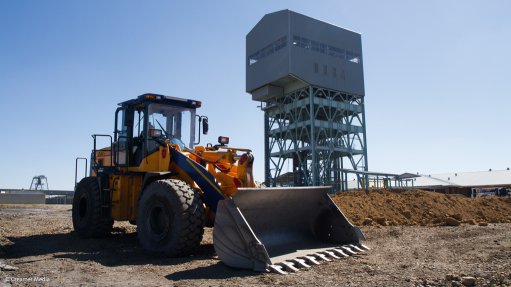 PROGRESS PROJECTED In the year ahead, Sasol Mining expects to further advance the second phase of its Impumelelo mine
Photo by: Duane Daws
In 2018, mining company Sasol Mining will have renewed focus on its business improvement programme to improve productivity and cost efficiency, states integrated chemicals and energy company Sasol in its Integrated Report, published June 30.
Sasol notes that its mining business unit is continuously improving its existing asset base and maintaining its technological lead, while driving its world-class safe operations to support growth.
Mining is responsible for securing the coal feedstock for the Southern African integrated value chain, mainly for gasification but also to generate electricity and steam, states the report. By doing this, Sasol Mining converts low-cost coal into higher-value products.
However, the Financial Times reported in September that Sasol, one of the world leaders in technology for converting natural gas and coal to liquid fuels, said new investments in the process are unattractive on economic and environmental grounds.
"It shows how far the technology has fallen out of favour, compared with five to 10 years ago when there was a wave of investments in gas-to-liquids plants with oil prices averaging above $80/bl. Sasol's joint chief executives say new plants for converting gas to liquids were now unlikely to be economically viable in unstable commodity markets, while converting coal to liquids had low returns and unacceptably high carbon dioxide emissions," said the publication.
However, Bloomberg reports that Botswana State-owned oil firm Botswana Oil will by December choose a company to build and operate a $4-billion coal-to-liquids plant, a facility it said may meet as much as 80% of the Southern African country's fuel demand. Botswana Oil received 11 bids by its August deadline and is subjecting them to "highly technical assessments", spokesperson Matida Mmipi said to the news agency in September.
Mining Plans
In the year ahead, Sasol Mining expects the Shondoni colliery to be completed and to further advance the second phase of its Impumelelo mine, both located near Secunda, in Mpumalanga.
The company continues to track developments in the regulatory arena, particularly regarding the Mining Charter and the Mineral and Petroleum Resources Development Act Amendment Bill.
Moreover, Sasol Mining strengthening its relation- ships with recognised trade unions, as well as with government officials and with the company's neighbouring communities, remains key to Sasol Mining. Extending its home ownership scheme for eligible employees is another focus area for the miner.
Performance Summary
Sasol Mining's Secunda mining operations expe- rienced a challenging year with protected strike action, which started in August 2016, by the Association of Mineworkers and Construction Union.
Notwithstanding an 11% decrease in mining production volumes, owing to the strike action and lower- than-expected production ramp-up post-strike action, the company continued to deliver its full coal supply commitment to the integrated Sasol value chain and external coal buyers.
The company experienced lower-than-expected production, owing to geological challenges at its new Impumelelo mine.
Sasol Mining reported a 19% increase in normalised unit cost of production as a result of slower-than- anticipated production ramp-up following the strike and higher costs to increase production.
The profitability of Sasol's mining business was significantly impacted on by the R1.4-billion net additional cost, as a result of the strike and external purchases to ensure continuous supply to Secunda Synfuels. Sasol Mining also reported lower export sales, as some export coal was diverted to Secunda Synfuels.
The report indicates that Sasol Mining worked hard to reintegrate teams after the strike and extended the company's community upliftment efforts, focusing particularly on greater home ownership among employees.
Sasol Mining notes that 82 new homeowners regis- tered in eMbalenhle as part of the company's home ownership initiative.
The report states that unfortunately, Sasol Mining's safety performance deteriorated during the financial year ending June 30, with two tragic fatalities, those of Johannes Mpho Mashili on July 4, 2016, and Themba Mahlangu on April 2, 2017. Safety remains a top priority to the company.