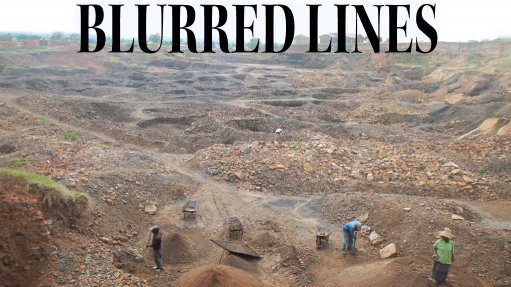 JOHANNESBURG (miningweekly.com) – While artisanal and small-scale mining (ASM) plays a fundamental role in the South African economy, as it helps reduce poverty and creates jobs for rural communities, the artisanal mining aspect has been labelled as illegal.
This is because of the blurred delineation of artisanal and illegal mining as distinct categories, which has resulted in the mining sector questioning aspects pertaining to the environmental, safety, social and economic policies for this sector.
Some commentators have argued that artisanal mining forms part of the national heritage and that illegal mining would be prevented if large-scale miners followed proper measures in terms of the rehabilitation of mines and environmental laws. Other commentators have highlighted the need for a clearer definition of artisanal mining to enable the Department of Mineral Resources (DMR) to regulate this type of mining more efficiently.
"The act of artisanal mining is viewed by some as a crime, [but] to the miners involved it serves as a livelihood that is a form of national heritage," says African Centre for Migration & Society PhD candidate Janet Munakamwe.
She adds that the fact that "illegal mining" plays a central role in poor households' livelihoods is a great concern and that, although much attention is paid to the criminal aspect, less attention is paid to the destination of the illegally mined gold, which could be a national refinery or the national or international market.
Moreover, Munakamwe suggests that there is a strong link between legally and illegally mined gold, as the two converge between levels three and five of the commodity value chain.
Former University of the Witwatersrand anthropology professor Robert Thornton states that some of the miners perceived to be illegal operators (zama zamas) in South Africa are actually 'artisanal' miners and entrepreneurs who create a significant number of jobs and generate economic value for many local communities.
Zama zamas are defined as miners who access disused mines, largely gold mines, to extract the small quantities of remaining ore – making it unclear how these differ from artisanal miners.
"In most cases, they are not ignorant desperados; however, they have unusual, nonstandard mining skills and knowledge that are distinctly different from industrial miners," he points out.
The zama zamas exploit gold resources that major mines cannot access and interact directly with global markets.
Artisanal mineworkers leave almost no environmental footprint, as they do not use the same mining methods that conventional operations use. This makes it difficult to label artisanal mining as a crime, Thornton says.
Legal Definition
According to the Mineral and Petroleum Resources Development Act (MPRDA), ASM includes mining operations with no or low levels of mechanisation that are undertaken by individuals, families or groups. These activities are on a subsistence level and are often seasonal or supplementary to other economic activities, which are often informal.
The MPRDA does not fully address the range of activities included in ASM, as the focus seems to be more on small-scale mining activities than on artisanal mining activities.
The MPRDA, however, states that ASM activities are defined based on the actual size of the operation, which is limited to 1.5 ha, with the duration stated as three years.
As ASM is most common around old mines, large-scale mining companies that own the land have environmental, safety and security challenges to deal with.
Prior to the MPRDA's promulgation, mining rights were limited to large-scale miners and ASM was excluded, which, therefore, defeated the purpose of job creation through ASM. Further, the 1998 White Paper, titled 'A Minerals and Mining Policy for South Africa', states that all forms of mining should be subject to the same requirements in respect of licensing, safety, health and environment.
However, the DMR recognises four forms of mining, namely artisanal, small-scale, junior and large-scale mining, which do not all benefit from the same policies and laws that govern the mining sector holistically.
Possible Solutions
An article published in 2014 in the official journal of the Southern African Institute of Mining and Metallurgy, titled 'Comparison between artisanal and small-scale mining in Ghana and South Africa', states that support from the DMR would enable greater participation in the formal mining system by ASM operators.
In addition to the MPRDA, the article states that ASM will have to comply with the requirements of the National Environmental Act and the National Water Act, as well as the labour, health and safety legislation that large-scale and junior miners are required to comply with.
The article also states that the financial resources, skills and capacity required to meet this range of legal requirements are high, which would be a barrier for operators who wish to enter the ASM sector legally.
This, therefore, calls for consideration of alternative ways in which ASM operators can be accommodated in the formal mining system.
Drawing on ideas based on his experiences in Rwanda and Burundi, the University of Johannesburg's (UJ's) Steven Rupprecht points out that the knowledge and skills base of ASM operators needs to be improved to make this type of mining activity safer.
"UJ's artisanal and small-scale mining programme has researched the skills and tools that are necessary to assist in establishing a sustainable ASM industry, which will cause a migration from manual labour to semimechanised mining and processing," he notes.
Moreover, involvement by government, mining company owners, consultants and businesses to ensure that real solutions are found has become paramount. Therefore, he urges government to consider introducing accredited mining courses at universities and technical colleges for this solution to work.
Should this be taken into consideration, Rupprecht believes that it would lead to safe, healthy and environment- and community- orientated mining operations that uplift the skills and wealth of workers and the general community.
Thornton emphasises that deploying proper legislation and training for the ASM sector in South Africa could yield positive economic benefits for the country.
In his Budget Speech in May, Mineral Resources Minister Ngoako Ramatlhodi mentioned that, following a series of izimbizo in the Northern Cape,the North West and Gauteng, small-scale miners and communities requested more communication from government on how ASM could be improved to benefit the sector.
The Minister pointed out that, in response to the request, the DMR would – in collaboration with the Department of Small Business Development – host a workshop with small-scale miners in the Northern Cape to align government interventions with the miners' needs.
"Government believes that increased support for small, medium-sized and microenterprises in mining has merit, and needs to be reconsidered under a new policy framework, which will deal adequately with the multiplicity and complexity of the challenges facing the sector," Ramatlhodi concluded.