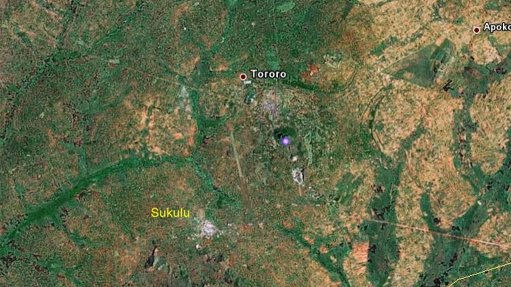 SUKULU PROJECT LOCATION Guangzhou DongSong plans to establish a mine and a beneficiation plant with a yearly processing capacity of 2-million tons and 300 000 t/y phosphate fertiliser plant
The Sukulu phosphate project, in Tororo district, Uganda, has received $240-million in development funding, which represents one of the largest privately funded mining- sector investments in Uganda and sets a "unique precedent" for public–private partnerships in the country, says Uganda's Ministry of Energy and Development (MED).
The Chinese State-owned Industrial and Commercial Bank of China (ICBC) in cooperation with South African commercial banking firm Standard Bank Group will disburse the money in tranches to Chinese investor enterprise Guangzhou DongSong Energy Group, which is the project developer.
Guangzhou DongSong president and chair- person Lv Weidong and ICBC global banking deputy general manager Lie Jianchang signed the deal at the recent China-Africa Investment and Financing Forum, which was held in Johannesburg, South Africa. The signing was also witnessed by Minister of State for Minerals Peter Lokeris and Ministry of Energy and Mineral Development permanent secretary Dr Fred Kabagambe-Kaliisa.
"The project will boost agriculture production through the provision of fertilisers, support infrastructure development through iron and steel production, offer jobs to the region, support other industries and boost our export earnings through value addition of the primary commodi- ties," said Kabagambe-Kaliisa, who was explaining the significance of the project to Uganda at the conference.
Guangzhou DongSong plans to establish a mine and a beneficiation plant with a yearly processing capacity of 2-million tons and a 300 000 t/y phosphate fertiliser plant, a 400 000 t/y sulfuric acid plant, a 12 MW waste-heat-based power generation plant and a 300 000 t/y steel mill.
The company estimates that it will hire more than 1 200 local people to work in its plants. "We will also make every effort to realise our social responsibilities by investing in schools, hospitals and other public welfare projects," added Weidong at the forum.
Kabagambe-Kaliisa explained that the Uganda government had granted mining rights to the investor in the form of a mining lease for 21 years, and other exploration licences to fina- lise additional exploration work.
He said that government had further provided 600 acres of land to facilitate the development of the industrial complex, and the construction of staff residences and the administration block.
"This support has helped to reduce the displacement effect, as more people would have been displaced if land in the licence area were not to be used for this purpose," Kabagambe-Kaliisa added.
The permanent secretary also noted that government would provide technical support in the compensation and resettlement of project- affected persons in the initial mining area.
This would include "sensitisation" of the project- affected persons, systematic survey of affected land, as well as valuation of affected assets and assessment of compensation.
"This has quickened the resettlement process that had stalled for over eight years, when mineral rights were in the possession of the previous holder," highlighted Kabagambe-Kaliisa.
Government has executed a mineral agreement, in terms of which it has agreed, among others, to stabilise the project net present value, permit the project developer to use the mineral rights as security for debt financing, submit all disputes, except tax and environmental matters, to expert determination and international arbitration, and grant all permits and authorisations that are necessary to implement the project.