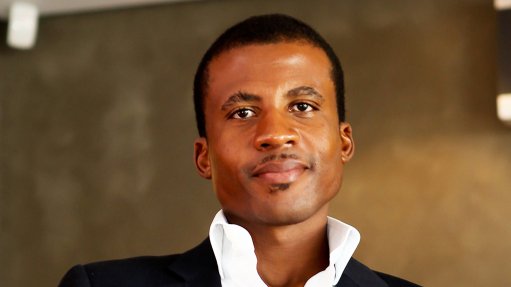 Bushveld Minerals CEO Fortune Mojapelo
JOHANNESBURG (miningweekly.com) – China is now a net importer of vanadium, a situation which is expected to persist, Bushveld Minerals CEO Fortune Mojapelo said on Tuesday.
Speaking at question-and-answer time after presenting a solid set of financial results for 2019, Mojapelo said in response to SP Angel mining analyst John Meyer, that the implementation of rebar standards for steel production had resulted in higher intensity of use of vanadium in steel and that the transition to renewable energy was also increasing demand for vanadium.
While the US continued to be a source of robust demand for the company's vanadium, China becoming a net importer of the metal was the most notable market development.
"When you look at it structurally, it can be expected going forward that China's going to be like that for a while," he stated during the analyst conference covered by Mining Weekly.
"If you add to that the infrastructure spending plans of the Chinese government, part of which is the fiscal stimulus and response to Covid, China is already expected to be back to pre-Covid levels.
"So, it's not surprising that the demand for vanadium out of China is very, very strong. If you look at vanadium prices in China relative to the rest of the world, there's a big price delta that's developing in China.
"That's good for us because we've started to sell more product in China. I'd say over the last two years, we've almost trebled our sales of product into China and we expect to see continuing increases in that market," Mojapelo said.
History had shown that even when vanadium prices were high, vanadium consumption in China continued to expand.
London Aim-listed Bushveld Minerals trades product through marketing agent Wogen Resources.
"But the arrangement we have with Wogen is one that gives us direct access and visibility into the market," he added.
The company is a vertically integrated primary vanadium producer with a diversified vanadium product portfolio, currently producing at a rate of 3 000 metric tonnes of vanadium (mtV) a year, with plans to grow its production to more than 8 400 mtV a year in the medium term.
It reported 2019 earnings of $32.6-million, with after-tax profits of $69.2-million, helped by a one-off gain on the acquisition of the company's second processing facility, Vanchem.
Bushveld Vanadium mines and processes vanadium and Bushveld Energy is an energy storage solutions provider and project developer exclusively focused on vanadium-based redox flow batteries.