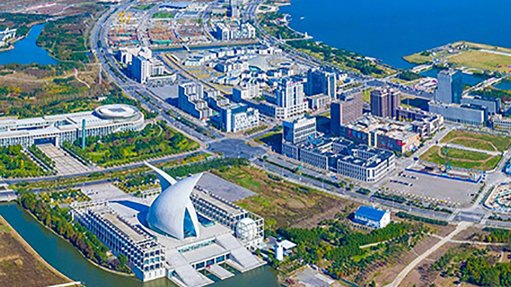 Lin-Gang Special Area of Shanghai.
JOHANNESBURG (miningweekly.com) – In what is a major boost for platinum group metals (PGMs), a new trade and technology centre dedicated to the growth of the PGMs market is being established in China, already the single largest consumer of PGMs, accounting for more than 25% of total demand.
Anglo American, Honeywell and the World Platinum Investment Council (WPIC) were among close to 70 organisations that signed strategic cooperation agreements with the Lin-Gang Group and other related parties in support of the Platinum and Precious Metals Centre, or PPMC, which is being established in the Lin-Gang Special Area of Shanghai. The Lin-Gang Group is a State-owned developer of industrial parks.
PPMC is made up of a PGMs research institute, venture capital fund, industrial park and offshore trading market, which will be developed in sequence to support new PGM applications and to grow an industrial cluster.
As part of its commitment to PPMC, WPIC will move its Asia Pacific headquarters to the Lin-Gang Special Area, where, from 2023, the annual Shanghai Platinum Week, which it co-sponsors, will take place. WPIC will also join the proposed PGMs research institute as a founding member and participate in a joint venture to oversee the development of the industrial park.
Commenting on WPIC's involvement, WPIC CEO Paul Wilson described PGMs as remarkable metals with exceptional physical and chemical properties which are used in applications that improve the world on a daily basis.
"In particular, PGMs are at the forefront of technologies that are helping humankind to tackle climate change, and their use benefits us all," Wilson stated.
Platinum, along with other PGMs, plays a critical role in proton-exchange membrane (PEM) electrolysers, which generate green hydrogen from water, and PEM fuel cells, which power fuel cell electric vehicles (FCEVs), that are emission-free, Mining Weekly can report.
Green hydrogen and FCEVs have received strong support from the government of China, amid its commitment to carbon neutrality by 2060.
Several enterprises from the fields of law, logistics, financing and insurance among others have agreed to set up the Lin-Gang Trade Cross-border Communication group to provide support services to international traders, including those involved in the PGMs supply chain.
Looking forward, more PGMs are expected to be imported and traded for use in technological applications as a result the establishment of the PPMC in the Lin-Gang Special Area. These include green hydrogen production, FCEVs, bio-pharmaceutical end-uses and environmental protection - all sectors that are critical to achieving China's economic and net-zero goals.