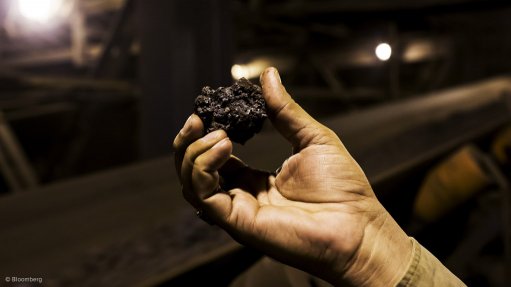 MOISTURE CONTROL The S8000RS chilled-mirror sensor is an efficient choice for moisture control in a range of metallurgical processes, including sintering
Photo by: Bloomberg
Moisture and humidity measurement solutions provider Michell Instruments, represented in South Africa by process control instrumentation manufacturer Instrotech, has introduced its S8000RS chilled-mirror hygrometer.
The S8000RS is the smallest hygrometer on the market, says Linbro Park, Johannesburg-based Instrotech, and is able to reliably reach dew points of –80 °C.
The hygrometer, which does not require any external cooling, is well-suited to metallurgical applications where its small footprint makes it easy to install in an air-conditioned instrumentation cabinet, explains the company.
Michell says its S8000RS chilled-mirror sensor provides long-term and unmatched, drift-free readings of dew point and relative humidity.
It offers fully automated control of the auxiliary cooling system, therefore, no operator intervention is required, even if the measured dew point changes from one end of its measurement range to the other, advises Michell.
The S8000RS chilled-mirror hygrometer offers an accuracy level of ±0.1 °C, with a measurement range of –90 °C to 20 °C dew point. As a result, Instrotech says, the S8000RS is an efficient choice for moisture control in a range of metallurgical processes, including sintering, where powdered metals are bonded together to form light and strong products, from filters to machine parts.
Because the powdered metal is not fully melted, Instrotech notes that the temperatures involved are relatively low, around 600 °C, but careful control of moisture is essential to ensure the finished quality.
Moreover, the company comments that, owing to the raw material being powdered metal, moisture present in the furnace could cause clumping or, as it evaporates in the heat, the creation of large holes in the finished product.
To avoid this, accurate control and measurement of moisture is vital, stresses Instrotech.
For sintering carried out at 600 °C, maintaining a constant dew point of –60 °C in the furnace is necessary and the gas is sampled at several points in the process. Instrotech highlights that a fast-responding moisture analyser is essential so that action can be taken quickly if moisture levels rise above acceptable limits.
Instrotech adds that the measurement range of –80 °C to 20 °C dew point is ideal to ensure consistent monitoring at –60 °C with "confidence in the accuracy".
Michell's S8000RS uses the fundamental chilled-mirror technique to measure moisture, which ensures long-term accuracy within ±0.1 °C dew point, reliability and a fast response.
The chilled-mirror technique is the humidity standard technology of choice for national standards laboratories worldwide, states Instrotech.
The company highlights that, in many processes, moisture is a critical factor that needs to be monitored and controlled.
Michell explains on its website that chilled mirror has the highest attainable accuracy of any dew-point measurement technology and provides repeatability over a wide measurement range.
"It is a proven, well-established and reliable measurement technique.The temperature at which condensation forms on a surface is measured directly, so there are no calculated variables that could change over time. This means chilled mirror does not suffer from drift or hysteresis," the company states.