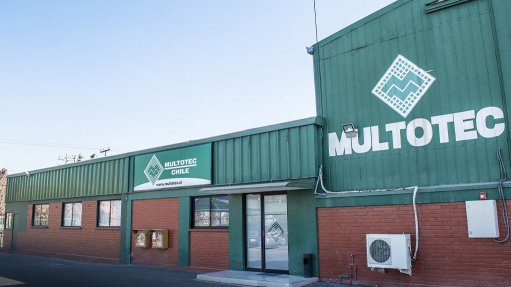 SOUTH AMERICAN EXPANSIONS Multotec's strategy is to align itself with the key mining industries in every country in which it operates
The conversion of certain large openpit mining operations to underground operations in Chile will provide significant opportunities for minerals processing equipment supplier Multotec to expand further into the mining sector in South America.
"We see the outlook for the mining sector in South America as positive. It's an opportunity because of our experience in Africa and Australia, where we have extensive knowledge of the processes that support mining operations," says Multotec GM of South America Graeme Campbell.
Multotec has been active in servicing the mining sector in South America since it established a branch in 1998 with Multotec Chile registered as Process Chile in the same year. Owing to this, Chile is considered as the company's home base for South America.
This tenure has provided the company with an extensive understanding of the mining sector on the continent, Campbell asserts.
Production of screening products started in 1999, and Multotec can manufacture screening media and various capital equipment products.
The company's strong presence in the screen panel market, and significant investment by the company in the local manufacturing of its screen panel product range, enables it to meet market demand and reduce delivery lead time to clients.
As part of its mineral processing equipment range, the company can also supply products, such as cyclones, spirals and samplers, which are suited to copper and gold plants.
"Multotec's strategy is to align with the key mining industries in each of the countries in which it operates. In Chile, Multotec focuses on copper, and, to a lesser extent, gold," maintains Campbell.
"Capital equipment supplied to mines in Chile includes Multotec samplers, which are custom-designed and well known for their metallurgical accounting capabilities," he states.
Multotec in Chile uses a hybrid sourcing model. Local manufacturing in Chile is used for certain products such as the company's consumable products, while the company's range of mineral processing equipment is manufactured in South Africa owing to the strong manufacturing base in the country.
"Engineers are able to assess the application requirements of clients in South America and factor this information into the product solution applied from the South African facility. Support for assembly and installation is provided by the Chilean team," illustrates Campbell.
Multotec also has sales and service teams based in the northern region of Chile, with key sales personnel in each area. Multotec uses Antofagasta, Copiapo and La Serena as bases.
"Being close to client operations informed the decision on locating sales and support teams in this region. The mines in this area are essentially all copper mines, with some of the largest copper mines in the world," Campbell points out.
Multotec has expanded its manufacturing capabilities for screening products in Chile. The company is extending its offering in that country to other products in the Multotec portfolio in response to client-specific demands.
A similar offering will be available to the Brazilian operation, which was established recently in Belo Horizonte, in Minas Gerais.
"Multotec has expanded its footprint in Brazil, and is positioning itself to service clients in the iron-ore industry more effectively. A roll-out programme to provide clients with services and products tailored to this sector is under way," says Campbell.
Campbell stresses that, as Brazil is a new territory for the company, there are hybrid sourcing strategies in place, which will develop and evolve based on client demand.
Peru has been identified as the next country of focus.
With a footprint on six continents, Campbell highlights the Multotec Group's goal of aligning culture and shared knowledge across the company's operations.
In pursuit of this goal, Multotec has transferred its global knowledge, skills and experiences in the iron-ore, copper, gold and diamond beneficiation industries to the company's teams in South America. This transfer involves three main focus areas.
The first area includes full engineering and technical support from specialists in other operations, particularly South Africa, Australia and Canada.
The second area involves the skills development of teams that reside in the region. Many travel to South Africa for extensive product, as well as operational, commercial and supply chain training.
The third area includes the direct employment of internationally experienced staff members on a limited basis to bridge the gap in communication and support knowledge transfer.
"Multotec has a philosophy of localisation, with its operations staffed by people who have knowledge of the particular mining sector in which they work. Skills development is vital," enthuses Campbell.
Multotec employs 22 people directly in Chile and Brazil, made up of South American citizens, with one exception. The teams comprise process engineers, productions specialists,operational and commercial support teams.
Campbell highlights the importance of growing this workforce in ensuring that Multotec's high standards of support to clients are met.
"Providing opportunities for local communities is part of Multotec's commitment to the countries in which it operates. "International knowledge and experience are shared across operations globally, but local implementation has been key to our success," he concludes.