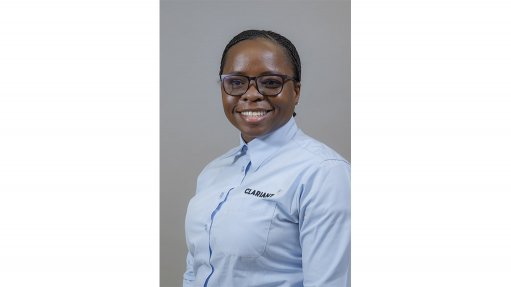 LINDA MAHLANGU Clariant works to find sustainable solutions
To assist mining companies in moving towards sustainable mining, customised chemical solutions specialist Clariant Mining Solutions is working with several mines in the sub-Saharan Africa region.
Clariant's assistance includes helping mines in reprocessing tails and has also launched a competence centre for tailings treatment in Brazil, which is dedicated to developing tailings treatment technology worldwide.
Clariant sub-Saharan Africa regional metallurgist Linda Mahlangu explains that customers have focused on sustainable mining and improved tailings operations to extend the life of mines and minimise job losses.
The company is helping mines to become more sustainable by helping them reduce the amount of tailings they generate using more selective collectors, and to process their tailings better using flotation solutions, filtration aids and rheology modifiers.
Clariant is also assisting mines in replacing xanthates with less hazardous products.
Mahlangu adds that Clariant's mining chemicals are branded with the Ecotain label, which "stresses our commitment to caring for our planet, the people that we serve and the performance of our chemicals".
This serves as the company's promise to help customers make sound decisions on sustainability by facilitating sustainable performance across the value chain, communicating transparently and guiding customers and partners on shared ambitions, she explains.
Clariant offers solutions across all commodities mined in the sub-Saharan Africa region that include flotation reagents, dust suppressors, dewatering aids, pelletising agents, rheology modifiers and explosive emulsifiers.
The solutions also improve grades and recoveries of the concentrates produced across all commodities, with the company also developing tailor-made solutions for customers by formulating new chemical solutions to customer requirements.
The company's mining laboratory in Johannesburg is "strategically positioned to address the needs of the sub-Saharan Africa mining industry" through mineral processing testwork.
Mahlangu adds that a detailed market analysis in the region indicated customers needed more technical support.
In response, the laboratory provides assistance for mining customers with technical challenges such as selectivity against chromite in platinum group metals flotation, improving mineral recoveries in ores that are difficult to process because of changes in mineralogy, and the treatment of mining tails.
Mahlangu stresses that Clariant aims to find sustainable solutions for complex problems.
"At Clariant, we pride ourselves in offering our customers innovative and sustainable solutions and we are always looking for new challenges," she concludes.