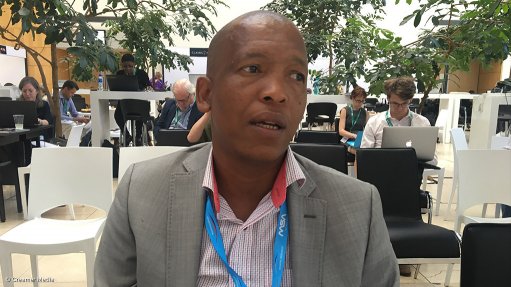 Opal Mining chairperson Paul Ranamane
Photo by: Martin Creamer
CAPE TOWN (miningweekly.com) – Chamber of Mines-mentored black emerging mining company Opal Mining on Wednesday hit the high spots on the investment battlefield stage at the Investing in African Mining Indaba.
Headed by group executive chairperson Paul Ranamane, Opal succeeded in reaching the semi-finals of the tough 22-contender competition, which was won by Toronto-listed Thor Explorations for its gold exploration project in Nigeria. Runner-up was Algold Resources, a gold explorer and developer in Mauritania. Thor's prize includes a free booth at next year's Mining Indaba.
Opal Mining, a member of the Chamber of Mines, is advancing plans to mine vanadium, coal and platinum-group metals (PGMs).
The emerging mining company has been working closely with the chamber's emerging miners' desk, headed by Grant Mitchell, which has 25 members.
The desk assists smaller chamber member companies to research opportunities with the help of eight senior mentors, who work pro bono.
Interviewed ahead of the investment battlefield competition, Ranamane told Mining Weekly Online that the chamber had been impressive in assisting Opal to position itself attractively under the mentorship of seasoned campaigner Richard Linnell, who in the 1990s set up the Bakubang Initiative, which led to the establishment of the now-defunct New Africa Mining Fund.
Ranamane said that Opal's main initial focus was to advance its vanadium prospect, on which a competent person's report was being undertaken.
Through the chamber, the company has been afforded access to a major vanadium producer, which has provided important insight into its beneficiation models.
In coal, the company was advancing potential coking coal plans in the Waterberg coalfield.
The PGM prospect near Rustenburg is being viewed as a medium-to-long-term development opportunity.
Self-funded to date, the company has begun interfacing with potential funders.
Ranamane, a lawyer who is running Opal full-time, envisions the company having its own operating mines and at some stage listing on an appropriate securities exchange.