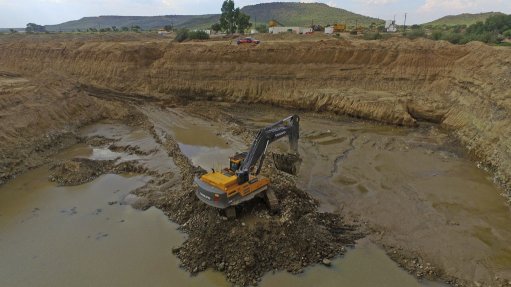 DIAMOND FOCUS One of the Council for Geoscience project aims is to investigate the mining potential of diamondiferous gravel deposits in the North West and Northern Cape provinces
Photo by: Steyn Diamante
The South African mining sector is currently facing a decline and, in an attempt to stimulate and support renewed mining activities, the Council for Geoscience (CGS) has launched a number of projects funded by the Department of Energy (DoE) that are aimed at investigating the unexploited potential of certain mineral commodities, says CGS geologist Debbie Claassen.
The purpose of these studies is to enable the CGS to provide expedient scientific information for local communities and miners that will ensure the sustainable and cost-effective future of mining.
She points out that one such project aims to investigate the mining potential of South Africa's diamondiferous gravel deposits in the North West and Northern Cape provinces.
Claassen comments that, through the interpretation of high-resolution geophysics, the use of remote sensing data and extensive and focused field mapping of known and potential areas of gravel occurrence, the project aims to study the origin, character, transport, distribution and trapping of diamondiferous gravels in a bid to identify target areas where future mining could conceivably take place.
The investigations have included detailed mapping of alluvial gravels across sixty-five 1:50 000-scale maps and sampling at over 100 gravel-bearing localities in an attempt to determine provenance through heavy mineral separation and the identification of indicator minerals.
During 2015, geoscientific investigations focused primarily on four well-known diamondiferous gravel fields located in the North West between Bakerville and Christiana.
Claassen says that, during this time, investigations revealed that diamondiferous gravel deposits concentrated along straight and meandering runs, sinkholes, dolines or palaeoriver terraces along the Middle Vaal river are the result of processes, structures and deposits associated with the Dwyka Group, karst formation, erosion and fluvial activity since the Cretaceous period, strongly linked to periods of uplift and erosion of the African surfaces, as well as pedogenesis, which played a "major role" in the transport, concentration and entrapment of alluvial diamonds.
Additionally, in 2016, geoscientific studies were centred on investigating alluvial gravels intermittently deposited along ancient and current river channels and distinct stepped terraces as alluvial, elluvial and colluvial deposits ranging from 0 m to 125 m above the current Lower Vaal and Middle Orange rivers in the Northern Cape.
Claassen says that the surface over which the braided palaeo-Vaal
and Orange rivers flowed and on which the diamondiferous gravels were deposited comprises either weathered andesitic lavas of the Ventersdorp Supergroup or weathered shale of the Dwyka Group that is crudely planar, with a shallow south-western dip.
"Bedrock lithology and topography play an important role in preserving and concentrating diamond gravels. Undulating bedrock, or bedrock irregularities with occasional small shallow potholes developed in the bedrock, serves as preservation localities or trap sites for diamonds," she reveals.
In addition, Claassen highlights that areas where the bedrock is jointed, faulted or has undergone extensive weathering may also result in the development of gullies, further encouraging diamond enrichment.
She says that, traditionally, diggers exploited the easily accessible near-surface and unconsolidated deflation-enriched Rooikoppie gravels, particularly those gravels overlying calcrete, as these areas frequently exhibit localised, discontinuous dissolution depressions which indicate grade enrichment.
"Deeper, often unrecognised, basal gravels associated with buried palaeochannels beneath calcrete were thought to be of marginal grade and left unexploited. More recent exploration efforts have taken advantage of this, targeting the deeper second gravel layer which has been shown to produce a fairly high grade," Claassen concludes.