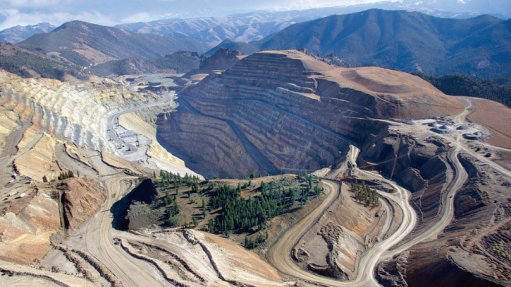 The Thompson Creek mine in Idaho
The idled Thompson Creek molybdenum mine, in Idaho, may resume production by the second half of 2027, Toronto- and New York-listed Centerra Gold said on Monday, announcing the Thompson Creek prefeasibility study (PFS) results as part of a newly unveiled strategic plan for each of its assets.
Centerra's molybdenum business unit comprises Thompson Creek and the 75%-owned Endako mine, in British Columbia, along with the Langeloth metallurgical facility in Pennsylvania.
Both mines have been on care and maintenance since 2014, while the Langeloth facility, which is one of the biggest molybdenum conversion plants in North America, has continued to process third-party concentrates.
Centerra is now considering restarting Thompson Creek, which when vertically integrated with Langeloth, would result in a combined $273-million after-tax net present value and a 16% internal rate of return, based on a flat molybdenum price of $20/lb.
The Thompson Creek PFS, requiring between $350-million and $400-million of preproduction expenditure, includes an optimised mine plan with an 11-year mine life.
The company will spend between $9-million and $10-million at Thompson Creek this year to advance studies, including de-risking activities such as geotechnical drilling, additional engineering costs and site early works.
Centerra has started a feasibility study for Thompson Creek, which it will complete by the middle of next year. First production is expected by the second half of 2027.
"Our PFS on the Thompson Creek molybdenum mine supports a disciplined path to restarting operations and realising significant vertical integration synergies with the Langeloth metallurgical facility," said president and CEO Paul Tomory.
Meanwhile, the strategic plan identifies opportunities at each asset that will drive growth for the company.
At Mount Milligan, in British Columbia, where production has been impacted by mine sequencing and lower-than-planned gold grades in the first half of 2023, Centerra is expecting a strong operational performance in the next few years.
The company has completed mining in the ore-waste transition zone in Phase 9 and is currently mining the higher-grade copper and gold zones from Phase 7 and Phase 9 in the second half of 2023.
"We will work to optimise operations and maximise the value of the large deposit," said Tomory.
At Öksüt, full operations resumed in June this year, with a guidance of 180 000 oz to 190 000 oz at an all-in sustaining cost of $800/oz to $900/oz for 2023.
The company expects elevated production at Öksüt through mid-2024, as the inventory and stockpiles are processed through the adsorption, desorption, and recovery plant, at which point, the production levels are expected to return to steady state, averaging 110 000 oz/y to 130 000 oz/y.
Further, Centerra has decided to re-evaluate the Goldfield project, in Nevada, to achieve a lower capital flowsheet and maximise return on the project. As a result, it will now focus exploration activities only on oxide and transition material, principally in the Gemfield and nearby deposit areas. Owing to this strategic pivot, Centerra will take additional time to perform exploration activities in Goldfield's large, underexplored land position before releasing an initial resource estimate. The timing for Goldfield's initial resource estimate will be contingent on exploration success and metallurgical testwork.
Centerra noted that it would provide an update on exploration progress at Goldfield during its third-quarter results.