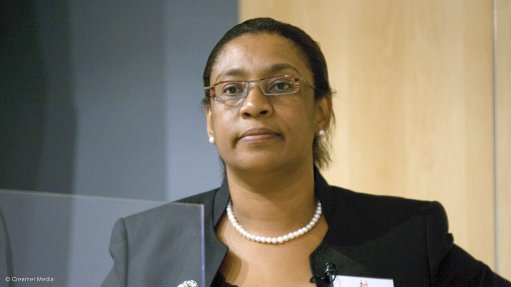 Merafe Resources CEO Zanele Matlala
Photo by: Creamer Media
JOHANNESBURG (miningweekly.com) – The year 2021 was a year of recovery for the Glencore Merafe Pooling and Sharing Venture, both from a financial and an operational perspective.
JSE-listed Merafe, headed by CEO Zanele Matlala, reported on Tuesday that improved economic activity had contributed to robust demand for ferrochrome, which, coupled with supply constraints, had resulted in a marked increase in prices.
Higher volumes sold lifted revenue, which was, however, dampened by the stronger rand:dollar exchange rate.
Merafe achieved its highest profit after tax since the formation of the venture in 2004, leading to the declaration of a final cash dividend of R549.8-million, bringing the total dividends for the year to R724.7-million.
Ferrochrome production rose 43% to 379 000 t and revenue rose 69% to R8 063-million, which rocketed earnings to R2 432-million from R168-million in 2020.
Net cash generated from operating activities increased to R1 156-million, net cash on hand rose to R972-million from R278-million in 2020, and a cash dividend of 22c a share was declared compared with nil in 2020.
Matlala stated in a release to Mining Weekly that the strong growth in stainless steel production as well as developments in China were key to the buoyancy in the ferrochrome market in 2021.
"The efficiencies achieved in our operations not only responded to this demand, but assured us of the ability to operate at these levels sustainably," Matlala stated.
Merafe's capital expenditure programme, which is described as being necessary to enable the top performances, was resumed in 2021 and will continue in 2022.
"There is expectation that global growth, while still positive, will slow down from the highs experienced in 2021," Matlala stated.
While the effects of Covid had been less damaging in recent periods, the pandemic remained a threat which the company would continue to monitor.
"We accordingly remain cautious in our approach to the future and will continue to focus on efficient operations, cash preservation, cost control and efficient capital allocation," Matlala added.
The platinum group metals plant and green energy initiatives were some of the important projects that would receive management's attention in 2022.