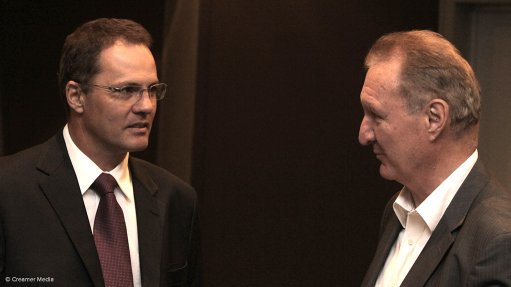 Niël Pretorius and Martin Creamer
Photo by: Duane Daws
JOHANNESBURG (miningweekly.com) – Surface gold mining company DRDGold, which has R324-million cash on hand after paying a five-times-higher dividend, is considering a buy-back of shares in support of its long-term shareholders.
DRDGold CEO Niël Pretorius, who has led a technical and financial turnaround of the gold-from-dumps specialist, tells Creamer Media's Mining Weekly Online in the attached video interview that the market appears to be favourable to a buy-back that would reduce the number of shares in circulation.
"It's certainly a concept that we're chewing on at this stage," said the CEO of the Johannesburg- and New York-listed company that sees technical upside for itself with the successful coming together of old and new dump-retreatment processing technologies.
The company saw its gold production rise 13% to 150 145 oz of gold and all-in sustaining costs fall 7% to $1 118/oz.
A tailwind has been the strong rand gold price, which touched the R500 000/kg mark a few days ago, and which at R485 000/kg is helping the company to deliver its eighth consecutive dividend.
"It's still a very attractive rand price, make no mistake," Pretorius commented to Mining Weekly Online.
Because all the material is already mined and lying on surface for process, the capital invested comes with very quick payback.
DRDGold paid back debt of more than R130-million in the last 12 months and on top of that it made more than R120-million in free cash, to settle at R324-million in total.
The company has avoided the sting of load-shedding in its operations and has supportive, profit-sharing labour.
In the 12 months to June 30 it produced a 13%-higher 150 145 oz to increase operating profit to a 48%-higher R384.3-million.
The business is not short of capital and CFO Riaan Davel reported a 9% increase in stay-in-business capital expenditure to nearly R37-million, which helped the company to end the year with a flurry that saw final quarter gold production rise 9% at 40 253 oz on a 9% rise in throughput to 6 333 000 t.
The company produced R246-million of free cash flow for the year, R88-million coming in the last quarter to June 30.
The fivefold dividend increase involves the distribution of the entire headline earnings of 10c a share as a dividend.
Going forward, the focus will be on fully integrating the new flotation and fine grind high-grade circuit with the established low-grade carbon-in-leach circuit.
It is being found that the flotation circuit is providing upside by enhancing the extraction efficiencies of the lower-grade circuit and an uptick is also being experienced as a result of the conversion of some of the carbon-in-pulp section of the high grade to carbon in leach.
"We're getting the numbers bang on with the integrated circuit," Pretorius commented to Mining Weekly Online.
Questioned on its share buy-back comments, Pretorius said that if the value of the company's shares was found to be significantly below what independent analysis found that it should be worth, steps would be taken to buy back to make the share more attractive for the longer-term shareholders.
"If the share is going to be kicked around by gamblers, then we're not going to just hang out there and say do with us what you want," Pretorius responded.
Instead, the company would take steps to look after the interests of its longer-term shareholders and take decisions on fundamental analysis.
This would make it easier for the company to convince the longer-term market that it would not be taken apart by trend traders.
The sacrifice of some liquidity was regarded as being worthwhile and buy-back won the nod of the longer-term investor community.
"Why not settle for four or five longer-term shareholders that accumulate when the market is favourable as opposed to just getting randomly kicked around like a dented Coke can," Pretorius postulated.
The company is also showing sensitivity to near-mine communities and has provided extra mathematics and science classes for 595 pupils while also funding the construction of a primary school in Soweto.
Because the company's stock-in-trade is mine dump material, dust has to be suppressed.
Dust emissions are being halved on a yearly basis. Out of 1 500 measurements taken this year, the statutory dust limit was exceeded 31 times.
"I still believe that's 31 times too many and once we've vegetated the entire footprint, that will disappear altogether," Pretorius told Mining Weekly Online (Also watch attached Creamer Media video).
The average rand gold price received in the 12 months to June 30 was 4% higher.
Revenue rose 16% to R2.1-billion, which was 13% up at R1.74-billion on total cash operating costs that included the last quarter's negative impact of higher winter electricity tariffs.
A 14%-higher yield to 0.197 g/t drove improved gold production and reflected a sharp turnaround in the performance of the Ergo plant on Gauteng's East Rand.
The company's future focus will be on fully integrating the new high-grade circuit with the established low-grade carbon-in-leach circuit.
The sharp final quarter gold production rise resulted from better infrastructure availability, the commissioning of new reclamation sites and drier winter weather conditions.