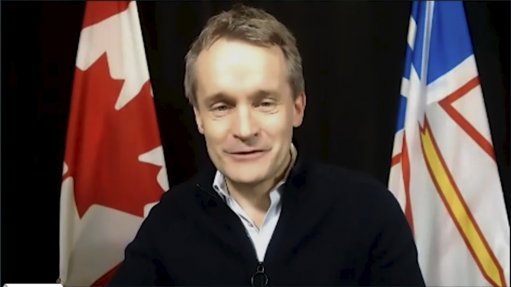 Natural Resources Minister Seamus O'Regan addressing the virtual PDAC 2021.
Canada is using its measures to recover from the Covid-19 pandemic to position itself as a haven for new technology and battery minerals, boasting a wealth of such minerals found in few other places around the globe, said Natural Resources Minister Seamus O'Regan.
He gave the keynote address at the opening of the 2021 edition of the Prospectors and Developers Association of Canada's (PDAC's) yearly conference on Monday.
"A year ago, we said in Toronto that PDAC matters and that mining matters, perhaps more than it ever has before."
Within days of the 2020 event, Covid-19 started its rapid spread around the globe. "For many of us, PDAC 2020 was the last normal event we attended," said O'Regan, adding that with the rapid onset of the pandemic, measures to slow its spread inflicted serious harm to the mining industry. "Global mining production was curtailed, plans were shelved and many workers had to stay home to keep others safe. Some mines were closed."
In addition, he pointed out that the impacts on exploration were even more pronounced. "Financing dried up and investments froze. Exploration activity came to a standstill and companies redirected their focus onto health and safety of workers and their communities."
However, O'Regan also noted that the Canadian government "stepped up . . . having Canadian's backs in these challenging times". As such, he said the government acted quickly, implementing the wage subsidy, work sharing programmes, tax relief and making available substantial liquidity for the markets.
The mining sector required specific and targeted measures, noted O'Regan. This saw the government acting further for the industry in particular with greater flexibility in applying regulations, waving payment on mineral leases and providing $250-million for early-stage companies.
As for the hard-hit junior exploration companies, he said the government extended the deadline for spending flow-through shares by 12 months.
"We tried to leave no stone unturned because we know the importance of this sector to the Canadian economy and to the future of the planet."
At the 2020 PDAC event, he told conference attendees that then "was mining's moment"; but that despite the challenges of the past year, he was more convinced than ever that that is true.
CRITICAL MINERALS
With a low emissions future on the horizon, O'Regan said metals and minerals would play a vital role in achieving a net zero emissions global target by 2050.
As such, he highlighted that many were looking to prospectors and developers to provide the raw materials of the green economy to lead a sustainable revolution. "The first industrial revolutions marshalled in the steam engine, locomotives, telegraph and the electric generator – which enables humans to harness unprecedented power and conquer unimaginable distances and realise unparalleled productivity."
However, the "sustainable revolution" currently under way would take the world in new directions, which O'Regan said would be led by new sources of energy. In this vein, he said Canada needed to be ready. "More than ready, we want to lead."
To ensure the country remains abreast of industry developments, he said Canada's government recently committed $15-billion to strengthen its climate plan – which has specific measures that would benefit the mining sector, ensuring the supply of critical minerals and supporting battery production.
Meanwhile, O'Regan pointed out that one of the "hard lessons of the pandemic" had been the fragility of global supply chains for critical minerals, as well as their vulnerability for geopolitical upheavals. In this regard, he said Canada was, and would continue to be, a reliable global supplier. "We are one of the only western nations that has an abundance of cobalt, graphite, lithium and nickel – all essential to creating the batteries of the future."
Further, O'Regan said Canada looked forward to working with the Joe Biden administration to build on the Canada–US joint action plan on critical minerals collaboration. "We also look forward to closer cooperation with other partners, like Australia and the European Union."
Canada also has its own plan for critical minerals – the Canadian Minerals and Metals Plan (CMMP), which recognises that the "road to a low carbon economy is paved with clean technologies".
"This year, through the first CMMP action plan, we have advanced the work being done under pan-Canadian geoscience strategy – it is aimed at producing better data to find the mines of tomorrow, lowering exploration risk, boosting competitiveness, supporting land use decisions and further building public safety by reducing risks from natural hazards."
To achieve all this, O'Regan said Canada had renewed its flagship geoscience programmes through a $135-million contribution. "The world is watching us and this industry as we tackle net zero, reduce our carbon output and drive clean growth and empower an electric energy revolution through our proven ingenuity and expertise by producing the minerals and metals for everything from solar panels and wind turbines, to the infrastructure for zero-emission vehicles and the next generation of batteries."
At the 2020 PDAC event, Canada Prime Minister Justin Trudeau said that to build a solar panel requires 19 minerals and metals. "Canada is home to 14 of them."
O'Regan concluded that Canada's natural mineral wealth was the "envy of the world", and was why global automotive manufacturers were looking the country and setting up their supply chains for zero emission vehicles there.