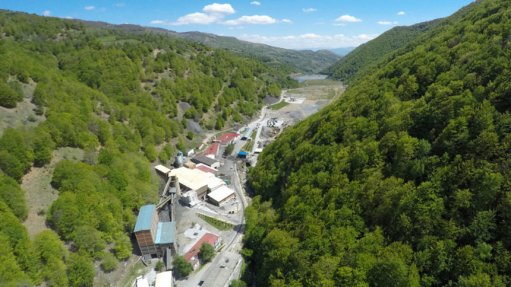 The Sasa operation in Northern Macedonia
London-listed Central Asia Metals has deferred its dividend decision and is reviewing its zinc and lead production guidance, after a tailings storage facility leak earlier in the week at its Sasa facility, in Northern Macedonia.
The company planned to reinstate its dividend, but has now delayed declaring an interim dividend because of Monday's leak at Sasa's TSF4, which resulted in the suspension of processing activities.
The miner explained that it is waiting to determine what the likely cost and timing would be to rectify the issue at TSF4.
"Of most importance, no one was harmed in the incident and we now have the situation under control," said CEO Nigel Robinson.
"Site management are working with the authorities to understand the root cause so we can repair the facility and ensure that we can safely operate again. Based on the initial information available, we consider the likelihood of an extended shutdown of the processing plant to be low."
Nevertheless, CAML's production guidance for zinc and lead is under review. The company previously guided zinc output of between 23 000 t and 25 000 t, and lead production of 30 000 t to 32 000 t.
CAML's copper production, from the Kounrad mine remained on track to achieve its guidance of 12 500 t to 13 500 t.