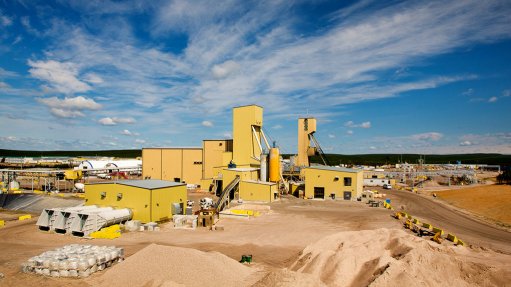 Canadian uranium miner Cameco on Friday reported first-quarter results that were in line with its expectations, reporting an adjusted loss of $29-million, or $0.07 a share, for the three months ended March 31.
The adjusted loss compares with adjusted earnings of $29-million in the same quarter of 2020.
Besides the normal quarterly variations in contract deliveries, the quarter's results were impacted by care-and-maintenance costs of $33-million, resulting from the suspension of production at the Cigar Lake mine, in Saskatchewan, for four months, starting in December.
The mine was restarted in April and the first shipment of ore was sent to the McClean Lake mil at the end of that month.
"With the continued execution of our strategy and the unplanned disruptions due to the Covid-19 pandemic, we are not at the regular tier-one run rate of our business. However, despite the near-term costs of our strategy and associated with the precautionary production suspension at Cigar Lake, we ended the quarter with over a billion dollars in cash," said CEO Tim Gitzel.
He further highlighted that Cameco had added nine-million pounds of uranium to its long-term contract portfolio last month.
Commenting on the market, Gitzel said that the group remained excited about the future of nuclear power generation and about the fundamentals of uranium supply and demand.
"Globally, we see demand for both traditional and non-traditional uses of nuclear power growing as the increasing focus on electrification while phasing out carbon intensive sources of energy continues to take hold. In Europe, we have seen nuclear move another step closer to being included in the EU sustainable finance taxonomy following a rigorous scientific assessment that concluded there are no scientific arguments supporting its exclusion. In addition, at the recent global leaders' summit on climate, aggressive plans to reduce carbon emissions and achieve net-zero carbon goals were discussed, with the US announcing a goal to cut up to 52% of its greenhouse gas emissions by 2030 leveraging existing and advanced nuclear reactor technology in its clean energy initiatives."
Cameco's stock advanced 10% to C$24.44 a share on Friday.