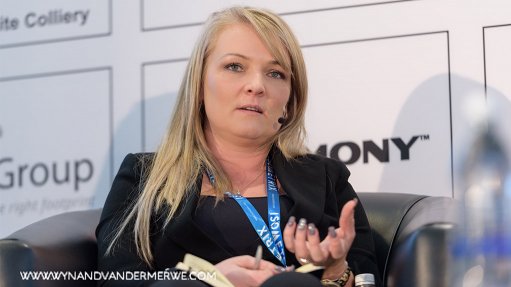 JSE business development manager Patrycja Kula-Verster
Photo by: Wynand van der Merwe
JOHANNESBURG (miningweekly.com) – The failure to raise risk capital for greenfields exploration in South Africa was highlighted at this week's Junior Indaba, where there was no let up on calls for the adoption of a proven Canada-type flow-through share scheme, and ongoing criticism of the unintended consequences of South Africa's modified 12J tax incentive.
"I would again like to say that we do need to lobby further for a flow-through model, or something similar, in South Africa, so that we're able to attract the required risk capital," JSE business development manager Patrycja Kula-Verster stated, referring to the North American country's highly successful, but locally spurned, flow-through scheme.
Kula-Verster was taking part in a panel discussion chaired by consulting geologist Allan Saad and including Letaba Elihle Investments executive chairperson Dalubuhle Ncube, independent consultant Dan Moagi and Snowden Mining Industry Consultants GM Bill McKechnie.
What has failed to be accepted by an unrelenting Treasury over a long period of time is that foreign direct investment has significant potential to create the required momentum that junior mining so desperately needs to ensure mining's survival.
"If we really want to grow the junior industry, we need to look at the local junior market and the offshore market, and how you can raise funds locally, and also how fund raising works on international stock markets," seasoned geologist Saad told the conference, attended by Mining Weekly Online.
In addition, highly experienced McKechnie outlined how exploration was motivated by its high risk holding out the potential for high return.
However, in South Africa, there were very few greenfields exploration projects under way that could be classified as junior projects and information on potential projects was hard to come by.
While $7.9-billion was budgeted globally for exploration last year, only 1.1% came to South Africa, with more than half of it spent in the platinum and chrome rich Bushveld Complex, or in gold in well-established areas.
The amount going into other minerals and metals was a negligible 0.25% of the world's global exploration budget. Moreover, half of the investment in South African exploration was in feasibility studies or mine site investigations – a far cry from much needed greenfields exploration.
To attract the required exploration investment competitively, South Africa needed to provide online access to what mineral projects are available and obtaining a prospecting permit should be an administrative procedure and not something involving Cabinet Ministers or even chief directors, but rather something granted by the click of a computer mouse.
Recalling the pre-computer days, McKechnie, formerly of De Beers, spoke of being able to apply for a prospecting permit at eleven o'clock in the morning and pick it up at two o'clock in the afternoon.
"In this modern age of computers and databases, why can't we do it today from the comfort of our own home or office? Make it simple and you'll create churn," he forecast.
South Africa's initial unsuccessful lobbying for a flow-through scheme took place as long ago as the early 2000s; that was followed by the equally unsuccessful revived lobbying a couple of years ago.
The obstacle has been an intransigent Treasury, which initially proffered a long list of non-mining takers of its extremely parsimonious, concocted incentive gazetting and then claimed that South Africa's 12J tax incentive had been modified sufficiently to provide appropriate incentivisation for high-risk exploration on a globally competitive footing. But the jury is still out on the veracity of that and many remain unconvinced and call for the application of a flow-through-type model if South Africa is to go toe-to-toe with the likes of Canada and Australia for foreign direct investment.
Why reinvent a wheel that has proved so successful over many years? To keep cyclical industries going through tough times, Canada introduced the flow-through model into its income tax act 60 years ago, which has resulted in the country being a top attractor of risk capital.
Canada is today home to more mining companies than any country, simply by introducing what is essentially a tax credit, but one that that can, in turn, be passed on to underlying investors.
But the country has to go with the flow, which has resulted in the JSE, in support of 12Js, introducing a special-purpose cash-shell acquisition company model for the acquisition of defined viable assets, but Treasury has created a credibility gap that, hopefully, will again not reduce potential wealth creation to a snail's pace.
"It's so disheartening to hear that we are paying for our junior mining companies to go overseas to go and raise capital there," was the lament of Kula-Verster.
Earlier, Junior Indaba chairperson Bernard Swanepoel had drawn attention to the 12J tax break having the unintended consequence of incentivising investment in shopping centres, of which South Africa already has an over-abundance, and failing to attract exploration investment in a country where meaningful greenfields exploration is needed to ensure foreign-exchange-earning mining companies have something to mine going forward.
JUNIOR MINERS' FUND
Saad placed a question mark over the chances of success of the new junior miners' fund that the Department of Mineral Resources (DMR) was planning in partnership with the State-owned Industrial Development Corporation and with investments from the Public Investment Corporation.
The former Rio Tinto geologist cast doubt on the fund succeeding as a stimulator of greenfields exploration projects.
He contended that many assumed that exploration would automatically lead to mining that would create wealth but the reality of greenfields exploration was that only one in 100 projects eventuated in viable mining operations.
Ncube called for transparency and complained that the online system that was supposed to allow prospective applicants to view what was on offer, needed to be revived.
"People spend a lot of money just to find out what is available, so if there is transparency, it will save time and cost for juniors who are already cost pressurised," Ncube added.
Many rail at the poor performance of the dubious cadastre system of the DMR, which they criticise as being a far cry from the cadastres of other African mining jurisdictions.
Independent consultant Moagi identified the issue of departmental corruption as the "elephant in the room".
He alleged that for one to have an application to be processed, a bribe had to be paid and he had heard of as much as R30 000 having to be paid to have an application processed.