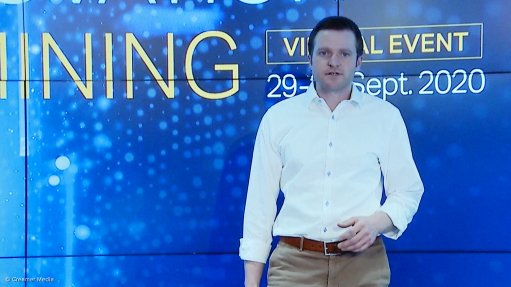 Sandvik global product line manager automation David Hallett
Photo by: Creamer Media
JOHANNESBURG (miningweekly.com) – Mining Weekly on Wednesday watched a cabinless emission-free next-generation mining vehicle autonomously load, haul and dump in an underground mine, without a human in sight.
The cabinless design places emphasis on the extent to which traditional human operation at the rockface is becoming a thing of the past and the emission-free electric power highlights the urgent need for underground mining to clean up its act.
The AutoMine Concept Vehicle is Sandvik's comment on where it thinks underground mining must head and this was made forcefully at the company's virtual event aimed at showcasing mining innovation.
Remarkably, the concept vehicle is able to analyse more than one-million points every second, which enables it to self-sense the environment in three dimensions (3D) and take its own decisions.
In pitch black darkness, it knows how to react. When a human pedestrian did eventually appear in its path, the prototype machine came to a perfectly safe halt.
This type of vehicle must be able to work among people and manual machinery, without the need for area isolation or safety gates.
Its onboard collision detection system is based on what it sees. Obstacles and collision risks are continuously analysed, without the help of tags or external systems.
It travels at its own safe speeds, according to the traffic rules and the situation.
If it spots collision risk, it slows down, coming to a complete halt only if it needs to.
To set new tasks, the machine's image is dragged across a screen in the direction it is required to go. All this is carried out on a map created by the machine itself.
At Sandvik's Tampere Test Mine in Finland, digital attendees went on a virtual tour of the control room, where the machine's 3D and all-angle vision of the world were highlighted.
The vehicle designs its own trajectory in accordance with given tasks, using what it has learnt about the underground environment in which it operates.
If it needs to turn, it self-decides how best to do that.
"The machine shows us very clearly what it's planning to do and then does exactly that. The system is very transparent and predictable and springs no sudden surprises," Sandvik research, technology and digitisation lead Jussi Puura assured the virtual audience.
With no diesel engine on board, it is fully emissionless, with the battery-electric driver providing a new level of precision and control.
"For the first time, we'll probably reveal the concept of what the future of underground autonomous mining will look like," was how Sandvik global product line manager automation David Hallett introduced the machine.
Sandvik has been supplying mine automation solutions since 2004.
"This concept vehicle incapsulates the vast experience in technological expertise that Sandvik's gained in this field over the past 20 years. With this concept vehicle, we have the ability to not only showcase our future technologies, but build the foundation for the next generation automation platform," Hallett added.