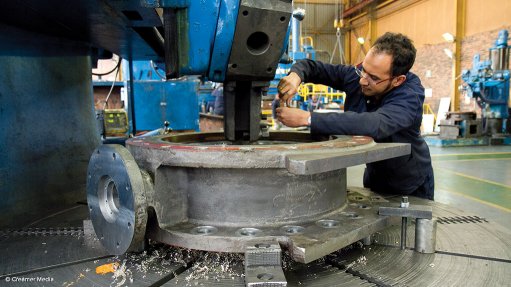 COMPETITIVE EDGE Gunric Valves manufactures and supplies cast and fabricated industrial, high-performance butterfly valves, which are now Safety Integrity Level 3-compliant
Photo by: Duane Daws
Johannesburg-based industrial valves manufacturer Gunric Valves' metal-seated butter fly valves are now compliant with the highest level of safety in South Africa, the Safety Integrity Level (SIL) 3, as of the end of 2015.
By obtaining SIL3, Gunric can supply locally manufactured products to the industry and bypass the traditional use of nontariff barriers that allowed imported products with similar certifications to keep local products out of the market.
The SIL3 accrededitation awarded to Gunric is for all electrically operated components that function within a system in a plant, such as a refinery. The butterfly valve was assessed for safety and reliability, as well as its impact on a system if it failed.
This certification enables Gunric to guarantee the oil, gas, mining and water industries that, when a particular section needs to be closed, the Gunric metal-seated butterfly valve will do so safely.
The Department of Science and Technology's Technology Localisation Implementation Unit (TLIU) assisted Gunric Valves in obtaining the SIL IEC 601 certification. The process took four months and cost R500 000.
The TLIU is hosted by the Council for Scientific and Industrial Research and is mandated to assist State-owned companies in realising their localisation programme by improving the competitiveness of strategic suppliers.
Gunric manufactures and supplies cast and fabricated industrial, high-performance butterfly valves in South Africa, exporting into the rest of Africa and Australasia.
The company provides customised butterfly and check valves for unique industrial applications. The range is built for extreme pressure and temperature applications and is ideally suited for the water, oil, process, mining, power generation, petrochemicals, gas, sugar and steel industries.
The company's industrial butterfly valves range in size from 80 mm to 4 000 mm. They are able to operate at pressures from CL 125 to CL 1 500, and at temperatures between cryogenic and 1 000 °C. Both cold and noncold box designs are supplied for cryogenic operation.
Available configurations includewafer, lugged, double flanged, buttweld or cryogenic and come in stainless steel and alloy finishes.
Further, Gunric's products are ideal for gases and liquids, including air, water, steam, oil, chemicals and various acids.
These valves can be actuated with manual gearboxes, pneumatically, electrically or hydraulically and are also suitable for high-cycle applications.
As the company uses replaceable seats and seals, repairs and maintenance are faster, reducing downtime.
Metal-seated valves supplied by Gunric are also certified as fire safe, in accordance with IPI 607 (2005) and ISO (2010) regulations.