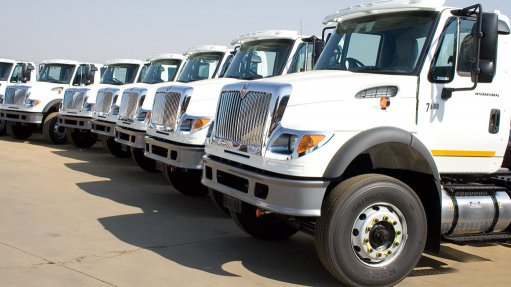 INVESTMENTS Anglo American is a major investment contributor in South Africa, pledging an investment of R71.5-billion into the country over the next five years
Mining has long played a crucial role in the development of African nations, with the continent being renowned for having the largest mineral resources in the world.
While gold ranks number one among African mining resources, the continent has a number of other valuable minerals, including bauxite, cobalt, industrial diamonds, phosphate rock, platinum-group metals, among others.
However, while Africa should be enjoying the riches of its land, it has historically been plagued by issues of conflict and war, making the security and essentially the viability of foreign investment in the mining industry across parts of central and sub-Saharan Africa a topic of discussion. This type of political unrest and its accompanying poverty have long played a role in the potential financial stability and investment opportunities of different countries.
Zimbabwe, for instance, having played a catalytic role in the exposure of investment and business opportunities in sub-Saharan Africa, has experienced political unrest in recent decades. Current President Emmerson Mnangagwa continuously emphasises the fact that Zimbabwe is "open for business", and that he would ease local ownership rules and re-engage lenders such as the International Monetary Fund (IMF).
According to the World Bank Group report on 'Doing Business in Africa: Sub Saharan Africa 2018', Mauritius, placed twenty-fifth in the global rankings, is the highest ranked economy in sub-Saharan Africa. Other economies in Africa that perform well on the ease of doing business global rankings are Rwanda (at 41), Kenya (80), Botswana (81) and South Africa (82).
While a vastly improved economic and political landscape across the continent has assisted in the securing of a more favourable foundation for Africa's continued growth strategy, corporates and industry have to be engaged productively to ensure capital flow to ensure the future of work.
The recent IMF Regional Economic Outlook highlights a strengthening macroeconomic outlook for sub-Saharan Africa. The report predicts expectant growth from 2.7% in 2017 to 3.1% in 2018, reflecting domestic policy adjustments and a supportive external environment, including continued steady growth in the global economy, higher commodity prices and accommodative external financing conditions.
The favourable investment conditions of sub-Saharan Africa were re-emphasised during the 2018 South Africa Investment Conference held at the Sandton Convention Centre. Hosted by South African President Cyril Ramaphosa in October, across the spectrum of industries, the major investment contributor in South Africa was global mining major Anglo American, which pledged an investment of R71.5-billion into the country over the next five years.
Second place in the investment standings went to Indian mining multinational Vedanta, with operations in South Africa, having guaranteed to invest R21.4-billion towards the country's metals industry. In seventh place in the overall investment standing was Canadian mining company Ivanhoe Mines' subsidiary Ivanplats, which promised R4.5-billion in investment into the local economy.
It is on the back of this growing confidence that mechanical pipe joining systems provider Victaulic says, while the mining sector may have experienced a slight investment slump over the past few years, the company is confident that this fresh investment may well result in a resurgence on the mining sector.
The company adds that, although the resurgence in mining is reassuring, as an industry, mining must ensure that it remains operationally sustainable. Mining companies must ensure that safety and cost containment are key elements to guaranteeing that investment pays off.
The technology provider see opportunities across its various divisions, and emphasises that safety and underground effectiveness play pivotal roles in ensuring even greater investment.
As a contributor to the mining industry since the 1920s, Victaulic has long identified the need for products that are easy to assemble, disassemble, move and reuse; products that offer flexibility and are able to be fitted in a fraction of the time in tight spaces, with less labour and equipment than conventional joining methods.
The company prides itself on its innovative designs that ensure that its products are easily installed and maintained. These improvements have provided greater system durability and, with a decrease in time spent on underground fitment and maintenance, there is an upsurge in jobsite safety.
Victaulic believes that mining does not have to be unsafe and, with the introduction of stricter safety legislation and protocols, as well as advances in safety equipment, the industry in South Africa, for instance, has seen its fatality rate drop from 90 fatalities in 2017 to 81 in 2018.
Although the goal of 'zero harm' has not yet been achieved, here or across the broader continent, it remains the standard that mining companies continue to strive towards and, with the right innovative products at hand, the opportunity to consistently meet this standard beckons.