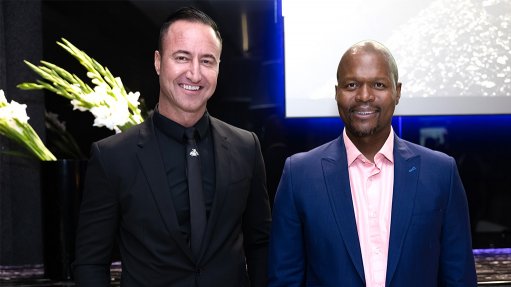 Business personalities Quinton van der Burgh and Lucky Kgatle
Business personalities Lucky Kgatle and Quinton van der Burgh have jointly incorporated a new joint venture (JV) named Tlou Commodities, which is aimed at engaging and growing the local mining sector.
The JV will pursue the establishment of a successful and sustainable coal and metal conglomerate with roots in responsible environmental practices and the advancement of the previously disadvantaged.
Kgatle has 20 years of experience managing large projects, the latest of which was energy company Sasol Mining's business transformation programme, where Kgatle served Sasol Mining senior VP.
Van der Burgh, who heads up mining company Q Global Commodities (QGC), has 17 years of experience in the mining sector, seeing more than 40 projects through to development.
In 2020, Van der Burgh rebranded and consolidated all his mining operations and related services under the banner of QGC, one of Africa's largest privately-owned mining portfolios, boasting self-sustaining subsidiaries in logistics, beneficiation and plant hire.
In the past financial year, QGC delivered more than seven-million tons of various grades of coal to the international and domestic markets.
"[We] believe Tlou has the potential to become an industry giant in the not-too-distant future and are prepared and excited to offer our assistance and provide our resources and expertise for Tlou to not only reach, but to exceed, its current potential," said Van der Burgh.
By launching the venture, Tlou has secured access to a private equity fund valued at R5-billion.
"Until the objective of exclusively renewable energy is realised in South Africa, we are committed to the diligent and responsible extraction and processing of our products, always having a healthy appetite for new technologies and processes aimed at reducing any adverse environmental impact and waste," said Kgatle.