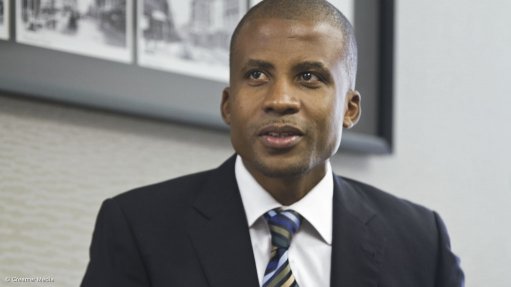 Bushveld Minerals CE Fortune Mojapelo
Photo by: Creamer Media
Aim-listed vanadium miner Bushveld Minerals has achieved a 24% year-on-year increase in vanadium production from its high-grade assets in South Africa.
The company produced 3 631 t in the 12 months ended December 31, 2020, compared with the 2 931 t of vanadium produced in the prior year.
The company, led by CEO Fortune Mojapelo, attributed the higher production primarily to the inclusion of Vanchem's production for the full year, despite a partial offset caused by the impact of the nationwide lockdown instituted in March.
Production was, however, lower than the guidance that the company had set out at between 2 660 t and 3 940 t.
Meanwhile, increased demand from customers during the second half of the year, and the addition of sales from Vanchem, led to a 78% year-on-year increase in group sales to 4 264 t.
Bushveld says sales to China made up 21% of total volumes sold in 2020, compared with 10% in 2019.
Meanwhile, subsidiary company Bushveld Energy successfully established its Bushveld Electrolyte Company as the operational company for the group's electrolyte business.
The engineering phase of the engineering, procurement and construction (EPC) process was completed in the fourth quarter of last year. The procurement process will follow before the end of the first quarter of this year.
Bushveld, in the year under review received environmental authorisation to proceed with the construction of a hybrid minigrid at Vametco.
Energy storage subsidiary of Bushveld, Enerox, will supply the 1 MW vanadium redox flow battery for the project and Spanish infrastructure company Abengoa will manage the EPC of the project, which will include a 3.5 MW solar photovoltaic plant.
The company had cash on hand of $50-million at the end of December, and it plans to spend about $33-million in capital expenditure across the portfolio this year.
Its production guidance has been set 13% higher this year at between 4 100 t and 4 350 t.
The company's flagship vanadium platform includes a 74% controlling interest in Bushveld Vametco Alloys, a primary vanadium mining and processing company; 100% of Bushveld Vanchem, a primary vanadium processing facility with a beneficiation plant; the Mokopane vanadium project; and the Brits vanadium project.
The company also announced that its ore reserves have been depleted by about 2% from the previous ore reserve estimate as at December 31, 2019, after 12 months of mining.
As at December 31, 2020, ore reserves have been stated at 267 200 t of vanadium oxide in magnetite, at a grade of 2.02%.
Mojapelo comments that there was no significant change in Bushveld's ore reserve in the past 12 months, except for the depletion that occurs in the ordinary course of mining the deposit.
"For a deposit with decades of production ahead of it and potential for expansion, this gives us the confidence to pursue our growth targets knowing we have a quality and consistent resource at Vametco."