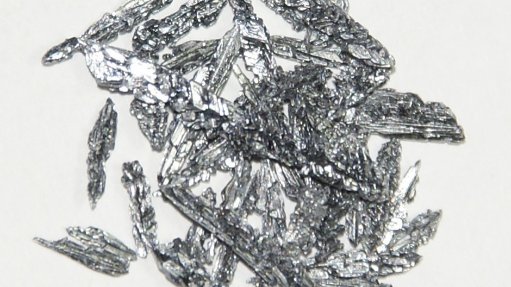 VANADIUM IN FOCUS The Bushveld Igneous Complex contains an estimated 20-billion tons of vanadium- and titanium-bearing iron-ore, thus making up about 26% of the world's vanadium reserves
Diversified mineral development company Bushveld Minerals is confident that it will soon unlock the vanadium mineral resource potential of the Bushveld Igneous Complex (BIC) – which spans the North West, Limpopo, Gauteng and Mpumalanga provinces – to propel the company from a junior explorer to a junior miner.
Bushveld's portfolio includes vanadium, titanium, iron-ore, phosphate, tin and thermal coal assets. However, the company's primary focus is on developing its vanadium assets, which include the Mokopane and Brits projects, in the BIC.
Bushveld executive director Anthony Viljoen notes that the BIC hosts an estimated 20-billion tons of magnetite, vanadium and titanium-bearing iron-ore. Of this, the vanadium-rich magnetite layer makes up about a quarter of the world's vanadium reserves and more that 30% of global titanium reserves.
"The development and coming into production of our vanadium assets would make us one of the largest producers of the commodity worldwide," he highlights.
Viljoen tells Mining Weekly that it will cost the company about $16.5-million to transform its vanadium production profile through the acquisition of Evraz's Vametco mine and plant, in Brits, in the North West, and that it has developed a "very innovative financing solution" to raise this capital without significantly diluting existing shareholding value.
On March 17, the company announced that it had secured a definitive sales and marketing agreement with Wogen Resources to assist in financing Bushveld Vametco's acquisition of a 78.8% interest in Strategic Minerals Corporation (SMC) from Evraz.
Bushveld Minerals announced on March 20 that the five-year renewable agreement also provided working capital finance for Vametco Alloys.
The Wogen financing comprises a $3- million product prepayment as part of the acquisition debt package, and inventory and receivables financing of $6-million, to optimise the position of the operations of Vametco Alloys.
The agreement will see Wogen become a global marketer and distributor of Vametco Alloys' nitride vanadium, or Nitrovan, production, excluding in Japan and Taiwan, and provide financing to Bushveld Vametco Group.
Therefore, Bushveld Minerals is inching closer to its acquisition, through its Bushveld Vametco subsidiary, of a 78.8% interest in SMC from Evraz Group. This follows after both SMC and American metals service centre Sojitz Noble Alloys Corporation agreed to waive their respective pre-emptive rights to acquire the SMC shares Bushveld Vametco has agreed to acquire.
The waivers form part of the conditions precedent, to completing the transaction.
Meanwhile, Bushveld is also making progress in fulfilling the remaining conditions precedent, which include the termination of all the related party contracts to Bushveld's reasonable satisfaction; transferring the marketing and offtake agreements; key management employees' agreement in writing to remain employed with the Vametco group after the completion of the transaction; and securing Ministerial consent for the transaction in terms of Section 11 of the Mineral and Petroleum Resources Development Act, of 2002.
Viljoen emphasises that the company is not neglecting its other assets, but, as a project developer, the company has been prioritising its vanadium assets.
Nonetheless, he says the company will, in the coming few months, make announcements on progress made on its tin platform under its Greenhills Resources subsidiary, including updates on its Mokopane and Marble Hall tin projects and how it aims to create value for these assets, as well as the progress on the previously announced evaluation of the acquisition of its Namibian Uis tin asset.
"Tin has been one of the better-performing metals on the London Metal Exchange [pricewise] over the past two years. However, there is no dedicated tin mining company listed on the London Stock Exchange currently and we believe there could be an opportunity for us to list our tin assets in a separate Bushveld-controlled entity as one of a number of options," Viljoen reveals.
The Mokopane project is based on the old Zaaiplaats tin mine, which was at one time the second-largest tin producer in South Africa. The company has drilled out a measured resource of 18.4-million tons of opencastable contained tin. The asset is located on the northern limb of the BIC and comprises one prospecting right covering six farms of about 13 422 ha.
Viljoen points out that, within the licence area, there are a number of further targets for opencastable disseminated tin resources that have been identified. Bushveld Minerals has explored and drilled two of the targets, Groenfontein and Zaaiplaats, on which a scoping study was based, and the results were released in September 2014.
Further, Viljoen remarks that the company's targeted projects offer favourable cost-curve positioning; "pragmatic", relatively low capital expenditure; and a near-term production profile. He says that Bushveld is also developing a number of "strategic partnerships" capable of accelerating projects to production.
"Bushveld's technical team boasts in-depth expertise on African geology and has played leadership roles from identifying and developing early-stage projects to developing them into operational mines," Viljoen concludes.