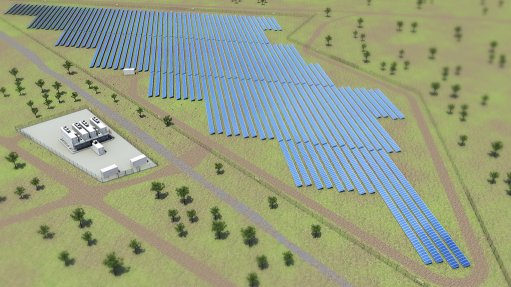 Bushveld's Vametco mine will see built a 3.5 MW solar photovoltaic and storage plant
Aim-listed Bushveld Minerals continues to progress with the hybrid minigrid project being developed at the Vametco vanadium mine, near Brits, on the western limb of the Bushveld Complex in South Africa.
The project comprises 3.5 MW of solar photovoltaic (PV) generation and 4 MWh of vanadium redox flow battery (VRFB) storage.
Bushveld had appointed technology solutions provider Abengoa to manage the engineering, procurement and construction of the project.
Abengoa says the plant will be the first commercial-scale hybrid project with vanadium flow batteries in the continent and the first 'megawatt scale' hybrid power plant for a mine in South Africa.
The minigrid will supply just under 10% of Vametco's electrical energy consumption at any one time and will demonstrate the technical and commercial capability of hybrid minigrids using solar PV and VRFB technology.
The project will also help to reduce the carbon footprint of Bushveld's mining and processing operations, since it will reduce carbon dioxide emissions by more than 5 700 t/y at the site.
In terms of the storage component, Bushveld's subsidiary Enerox, which has installed more than 136 VRFBs to date, will supply the VRFB for the project.
Bushveld has further signed a memorandum of understanding with Thebe Investment Corporation, involving it as a strategic equity partner in the development and funding of the project.
Thebe will be active in the development of the project going forward, including assisting Bushveld with finalising the terms of external debt funding.
Bushveld already has a power purchase agreement in place with Vametco and has obtained a term sheet for long-term debt funding for the hybrid minigrid project.
Once the debt and equity financing closes, the company can apply for a generation licence with the National Energy Regulator of South Africa and proceed to construction. The project is already environmentally authorised to proceed to construction.
In terms of the supply chain, Vametco, the company's mining and processing operation, will supply about 25 t of vanadium in the form of oxide for the VRFB.
Enerox, the VRFB developer and manufacturer owned by an investment consortium that includes Bushveld, will supply the VRFB and ensure the conversion of the oxide into electrolyte, and Abengoa will supply the solar PV unit, and install and integrate the system at the Vametco mine and processing plant.
Abengoa will also provide maintenance for the facility post-commissioning.
Commercially, the project is structured as a separately funded independent power producer that will sell the electrical energy to the mine, reducing Vametco's reliance on Eskom.
As a result, the Vametco hybrid minigrid project installation will be one of the first solar generation projects with long-duration storage to be financed, off-balance sheet in Africa.