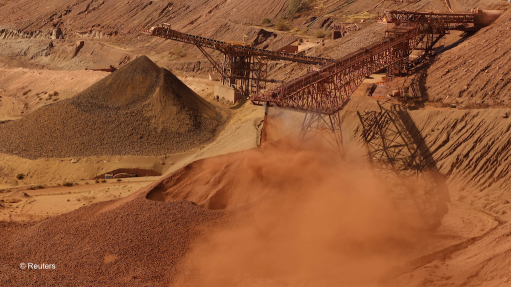 Photo by: © Reuters
Name of the Project
Buena Vista iron project.
Location
Nevada, US.
Project Owner/s
Magnum Mining.
Project Description
The Buena Vista site is a fully permitted mine, owing to its previous history of production, and is entirely located on private land.
A scoping study completed on the project in August 2023, considers the project as technically low-risk because of the well-studied metrics of the proposed mining and beneficiation operation.
Envisaged is a standalone openpit mine supplying a conventional crush, grind, and magnetic separation process, targeting 1.6-million tonnes a year of direct reduction iron magnetite concentrate production over an initial 25-year mine life.
Over the current life-of-mine (LoM), 84% of ore will be sourced from indicated resources and 16% from inferred resources. Magnum has advised that the inferred resources are not a determining factor in the project's viability and that the inferred resources are not required early in the mine plan.
The scoping study considers only the West deposit resource, which, for scheduling purposes, includes the Section 5 resource.
It is proposed that an average of 7.2-million tonnes of ore and 3.6-million tonnes of waste a year will be mined from the West deposit.
The project's East deposit may be considered to extend the LoM later.
Buena Vista's magnetite ore will be beneficiated using industry standard methods – primary, secondary and tertiary crushing, followed by coarse wet magnetic separators to reject nonmagnetic portions to waste.
The project includes an office, laboratory and workshop facilities, stockpiles and waste dumps, a tailings storage facility, water supply borefield and pipe routes, and access roads to and within the plant, mine and site.
Potential Job Creation
Not stated.
Net Present Value/Internal Rate of Return
The project has an estimated net present value, at a 10% discount rate, of between $360-million and $748-million and an internal rate of return of between 26% and 54%, with an estimated payback of three to five years.
Capital Expenditure
$280-million.
Planned Start/End Date
Not stated.
Latest Developments
Magnum Mining & Exploration has flagged a potential offtake deal with mining major Anglo American over all the iron-ore produced from the Buena Vista project.
Magnum has signed a memorandum of understanding (MoU) with Anglo American to progress negotiations towards a binding transaction, covering all commercial iron-ore products from Buena Vista, including direct shipping ore (DSO) and iron concentrate of blast furnace and direct reduction iron grades.
The MoU is nonbinding and any potential agreement between the two companies would be subject to a due diligence process, Magnum has said.
Magnum has previously told shareholders that the company will embark on a prefeasibility study for the Buena Vista project within a year, followed by a feasibility study. The company is currently seeking funding to advance these studies and secure funding optionality for project development.
Magnum has said that it is pursuing options to bring Buena Vista into production in the shortest and most economical way.
Key Contracts, Suppliers and Consultants
None stated.
Contact Details for Project Information
Magnum Mining, tel +61 8 6489 0600 or email info@mmel.com.au.