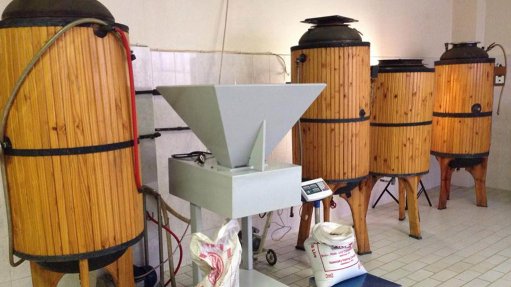 DISTILLATION PROCESS Brewing produces waste that can be reused
While most breweries dispose of any waste produced through their brewing processes by selling it to livestock farmers – or buying their own livestock to feed their waste to – Boksburg-based brewery Just Brewing Company donates its waste to a local park and petting zoo, which uses it as feed for the animals.
"We decided to take a different approach to the way we dealt with our waste to ensure that we make a greater impact on the community and the environment," says Just Brewing Company co-owner Wendy Pienaar.
The brewery donates its spent grain – the malt left over after mashing, where the grain is soaked in hot water – to the nearby Bokkie Park, in Boksburg, Ekurhuleni. The Bokkie Park is a free-admission municipal park and petting zoo for the nearby community.
Just Brewing Company has been donating its spent grain to the park since April last year, producing about 300 kg of spent grain a month, which can sometimes vary slightly, based on a particular month's production, says Pienaar.
She adds that the park otherwise relies on donations of spoilt vegetables from supermarkets to keep the animals fed. "Previously, this meant that food was often in short supply."
To help alleviate the problem, Just Brewing Company entered into a partnership with Bokkie Park to donate all of its spent grain to the park to help ensure that the animals are fed all year round.
"We have also presented the idea to other breweries during local brewers' meetings, where we encouraged them to do the same," says Pienaar.
She tells Engineering News that large-scale brewing produces a fair amount of waste, especially in the form of spent grain.
"After mashing, most of the sugars are removed from the malt, but the remaining spent grain still has some of the sugars and all the fibre in it, which makes it an excellent animal feed, especially for domesticated livestock."
Community Projects
Pienaar tells Engineering News that community projects are important to Just Brewing Company and that, from when the brewery started operating in January last year, it decided to prioritise these types of projects.
In addition to the brewery's monthly contributions to Bokkie Park, it also supported the Kempton Park branch of the Society for the Prevention of Cruelty to Animals (SPCA) in October last year, by participating in an auction held at Brewcraft South Africa, where it donated about six cases of limited-edition vintage beer bottles for the SPCA to sell and use the proceeds to help with the running of the facility.
Just Brewing Company also supports community upliftment and development association Round Table Potchefstroom 47. Pienaar says that, at the beginning of the year, the brewery provided beer at a reduced rate for the association at a beer festival it organised to raise funds for its local projects.
Round Table is a non- political, nonsectarian association of people between the ages of 18 and 40 involved in community upliftment and development.
The association embraces representatives from nearly every occupation. Its objectives are to encourage ethical standards, promote social intercourse and fellowship among young professionals, as well as individual interest in everything affecting public welfare.
Meanwhile, Pienaar adds that in September Just Brewing Company raised funds from the sale of its Black Ale beer to support rhino conservation organisation Black Rhino Conservation Trust, which runs a black rhino antipoaching unit.
Pienaar says the company's Black Ale usually generates sales of about R600 a month. However, on this occasion, since people were eager to assist with the fundraising project, the R600 average was exceeded in September.
"We also had a few people who generously made donations without buying Black Ale, which greatly boosted our fundraising efforts," she concludes.