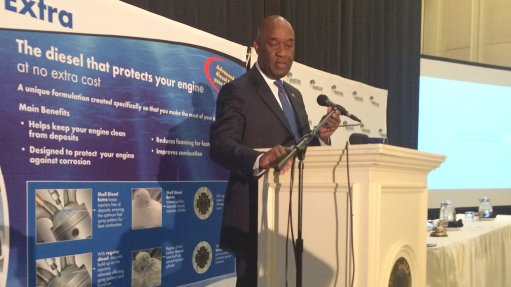 Botswana Minerals Minister Onkokame Kitso Mokaila
GABORONE (miningweekly.com) – Botswana's Minerals Minister Onkokame Kitso Mokaila on Tuesday expressed his Ministry's willingness to assist stressed mining companies on a case-by-case basis during the severe mining downturn and called on the industry to let his government know where it might be falling short in decreasing business risk.
Opening the Botswana Resource Sector Conference, Mokaila said in his keynote address that the Botswana government was working hard to develop energy and water capacity and was taking steps to privatise water and power infrastructure under a new plan.
"Our job is to decrease risk and make mining more sustainable," the Minister said, adding that one is through beneficiation of the country's mineral products.
Mashale Phumaphi, MD of the Botswana- and Mauritius- listed Shumba Energy, outlined to the conference that Southern Africa's large electricity deficit is presenting significant opportunities for cross-border power supply.
He flashed on to the screen the 3 750 MW of baseload coal-fired power that South Africa's Department of Energy is seeking from independent power producers (IPPs).
African Energy MD Frazer Tabeart told the conference attended by Creamer Media's Mining Weekly Online that the South African government had gazetted a notice for direct negotiation for the cross-border supply of electricity from Botswana, which has an abundance of thermal coal suitable for power generation.
Tabeart was equally enthusiastic about the invitation of tenders to provide capacity for the transmission of power from Botswana to South Africa.
"The whole region is short of energy. Zambia and South Africa are the two biggest examples," he added.
Speakers pointed out that the cost of transporting Botswana coal is not favouring exports.
Jindal power head Neeraj Saxena called for dynamic logistics pricing that reflected the market.
In the time that Jindal took to study the feasibility of exporting coal from Botswana through South Africa's Richards Bay Coal Terminal the export price of coal fell from $88/t to $40/t.
Botswana coal was also in the lower grade category, which presented its own problems.
CASE-BY-CASE ASSISTANCE
Some commodity prices were expected to remain depressed until the end of 2017 before seeing a steady rise to 2022, and Botswana's Minerals Ministry stands prepared to assist companies through this tough period.
"Our Ministry is willing to assist on a case-by-case basis," Mokaila reiterated.
He also urged more effort to be made to reduce operational inefficiencies in diamonds and pledged the country's contribution to marketing under the new slogan of "real is rare, real is a diamond".
He said Botswana's electricity power capacity was being increased to a point where the country could play a role as a power exporter.
He expressed hope that the Morupule A power station, which is being refurbished, would be fully operative by the end of 2017 and revealed that discussions had started on Morupule B's conversion into an IPP.
Also on the cards was the use of coalbed methane to fuel a 100 MW power plant.
The government was engaged with the Chamber of Mines of Botswana on the development of greenfield stations to export power and there was close liaison in this regard with South Africa's IPP unit.
Mokaila said that he hoped that the private sector saw merit in the consultation process conducted on the Mines and Minerals Act Amendment Bill, aimed at creating an enabling environment for mining companies in Botswana.
"We are trying to modernise the Act and to make sure it is more transparent," the Minister added.
He lamented the extent to which illegal mining was taking place in Botswana and emphasised the need to toughen the Act.
"Please don't spare us. Criticise us and tell us where you think we fall short," he pleaded.