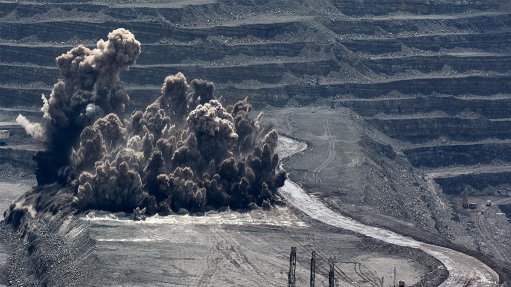 NEW SECTOR, NEW OPPORTUNITES The development of a coal-to-liquids sector in Botswana could result in the development of other industries such as explosives
Photo by: Bloomberg
Botswana is considering the establishment of a coal-to-liquids (CTL) industry to exploit the country's large coal resources, which would assist in significantly reducing its yearly petroleum import bill and drive the diversification of Botswana's economy, Botswana Chamber of Mines CEO Charles Siwawa tells Mining Weekly.
He says a decision on whether to proceed with a CTL sector will be taken by the industry in the next three to five years.
"Botswana has an estimated 212-billion tons of coal reserves, the second-largest in Africa after South Africa, and we are looking at ways of converting this resource into revenue. One of the options available to us is the establishment of a CTL sector," says Siwawa.
The Botswana Chamber of Mines Coal Forum, which incorporates all the country's key coal industry players, is currently undertaking conceptual discussions on the prospect of a CTL sector.
"Establishing a CTL sector would also assist Botswana in developing spin-off industries, such as fertilisers, plastics and ammonia for explosives, which are used in mining," he explains.
Siwawa adds that Botswana's government is driving industrial initiatives to reduce the country's dependence on the diamond mining industry – which contributes about 30% to the country's gross domestic product and 50% of its tax revenues – by strengthening other mining sectors, such as coal, copper/nickel matte and gold, as well as nonmining industries, such as tourism and agriculture.
Siwawa ackow
ledges that the establishment of a CTL sector in Botswana would require significant external technical and financial assistance in light of the fact that this would be a first in the country.
Technical assistance would likely come from South Africa – the global leader in CTL.
Siwawa adds that the development of a CTL sector would require significant environmental consideration, as large tonnages of coal are burnt in the process and the waste material produced from the production of CTL has to be disposed of appropriately.
"Water is also a matter that will have to be considered, as the CTL process consumes large amounts of water, and Botswana, like many other Southern African countries, faces the challenge of water scarcity," Siwawa states.
He further notes that the initial sourcing of sufficiently skilled people locally will be challenging. "It will take at least five to ten years for expatriate workers to train locals before they are able to operate and maintain the plants," he explains.
Nonetheless, Siwawa says the initial round of discussions with local industry players has been positive and that most stakeholders have shown interest in the prospect of developing a CTL sector in Botswana.