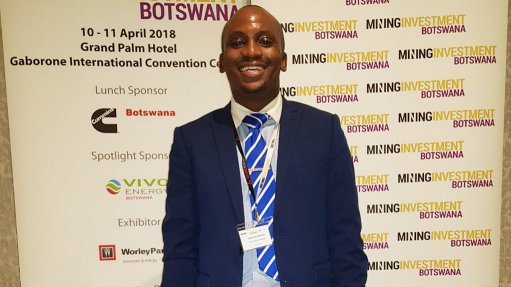 NKULULEKO MHLABA As a result of the 2018 Mining Investment Botswana conference we now also have three pending transactions in Botswana
Mining and engineering company Pan African Minerals says it attended the 2018 Mining Investment Botswana Conference, which was held in Gaborone from April 10 to 11, to create partnerships, networks and take advantage of the business matching prospects.
The company's attendance has already yielded some significant opportunities, says Pan African Minerals CEO Nkululeko Mhlaba. "As a result of the conference, we now also have three pending transactions in Botswana. We were also looking at investing in a diamond mine in Botswana prior to the Mining Investment Botswana Conference; after the conference we are now looking at finalising that investment."
Pan African Minerals is also in negotiations to supply petroleum and diesel to one of the biggest retailers in the Botswana petroleum industry. Mhlaba hopes that these opportunities will lead to Pan African Minerals building an oil refinery in the country and seizing similar mining opportunities in other African countries, including Gambia, Tanzania, Congo, Mozambique, Zimbabwe and South Africa.
Conference Contribution
Pan African Minerals exhibited the company's commodity trading services, as well as its engineering, consulting and mining equipment supply services at the event. Mhlaba notes that there is high demand for the company's services in Botswana, highlighting the need for investment to develop the country's mining industry.
Mhlaba was a speaker at the conference, with his presentation having focused on the Southern African Development Community (SADC) region's potential to become a global player in the chrome, copper, diamonds, gold, platinum, iron-ore and manganese industries. His presentation was 'Building a thriving mineral beneficiation industry'.
"Botswana has the potential of becoming a hub in the SADC region in terms of mineral beneficiation, which would industrialise and develop the economy of the country and create needed jobs."
The country has a politically stable environment, an educated workforce, and diamond and coal reserves; therefore, the company is also interested in various opportunities that are available in Botswana, particularly in high-end mineral beneficiation, adds Mhlaba.
He mentions that, with support from the Botswana government, Pan African Minerals can assist in developing and industrialising the economy of Botswana.
Mineral Beneficiation
Pan African Minerals also completed a trade mission to Turkey last month. The mission was supported by the South African Department of Trade and Industry to increase the company's exports to the European market. Pan African Minerals will subsequently move into mineral beneficiation in the production of ferroalloys, ferro-silicon manganese, ferro manganese and ferro silicon for the Turkish market.
"We have signed a supply agreement with the second-biggest steel manufacturer in Turkey, with 8 000 employees at five plants, to supply them with the ferroalloys and iron-ore, and also market their steel products in South Africa, the SADC and broader African regions, starting with steel shots for the foundry, engineering and steel fabrication sector, steel reinforcement bars and piping for the construction sector, and steel coils for the manufacturing industry."
Mhlaba highlights that Pan African Minerals will provide access to markets, as well as growth in Africa through the long-term partnership and investment goal, which is building a steel mill that will produce products to service the African market and industrialise local economies.
Mhlaba tells Mining Weekly that the company will also establish a chrome wash plant and foundry in South Africa to produce chrome sand, as well as a gold refinery.
The company will also attend mining investment conferences in Australia, China, Dubai, Germany, Singapore, Hong Kong and Turkey held throughout the year. Mhlaba says it is essential for the company to attend these conferences, as they are opportunities to network with various mining leaders and decision-makers in the field.