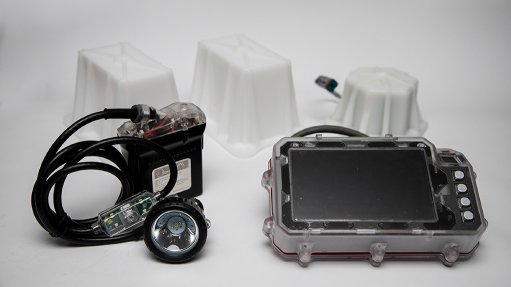 THE BOOYCO CXS The Booyco CXS is a comprehensive integrated response to Level 7, Level 8 and Level 9 safety levels as defined by EMESRT
South African proximity detection system (PDS) specialist Booyco Electronics has further extended its global reach, having secured a recent contract with a surface gold mine in Chile. The project was carried out in collaboration with Booyco Electronics' distributor in the region – mining and industrial technology company Insucam.
Booyco Electronics CEO Anton Lourens explains that over 50 of its "market-leading" Booyco CXS systems have been installed on vehicles and other machinery on the mine. The installations followed a demanding testing phase, which affirmed the customer's trust in the technology.
"South America is a key focus in our drive to open markets abroad, so we are excited about the take-up of our latest CXS offering in that region," says Lourens. "Safety on site is always a core concern for mines, and we value the opportunity to help them ensure that all their teams get home safely at the end of every day."
"Every operator on the mine is now aware of the relative location of the machines and operators are quickly alerted to any possibility of collision, as the system tracks the trajectory, speed and position of each machine," comments Insucam business development and new technologies manager Carlos Pinto Reyes.
He highlights that the Booyco Electronics CXS uses direct GPS signals from three constellations of satellites to determine spatial positions, so it is not reliant on the GPRS coverage used by mobile phones. This is an important advantage for mines located in remote areas without reliable GPRS signal.
Lourens explains that the technology advances made by Booyco Electronics' CXS solution elevate it from being a warning system to being a fully-fledged collision avoidance system – avoiding collisions between vehicles or between pedestrians and vehicles. It therefore provides a comprehensive and integrated response to Level 7, Level 8 and Level 9 safety levels – as defined by the Earth Moving Equipment Safety Round Table (EMESRT).
Its technology has also been developed to address the various scenarios specified by EMESRT in its protocols and guidelines. This has meant the company's PDS solutions have solid global applicability from a technology deployment perspective.
Expanding Global Reach
Having recently made export development a strategic imperative, Booyco Electronics is seeing enthusiastic uptake of its home-grown PDS technologies and is making rapid headway in growing its global footprint, says Lourens.
"These are exciting times, where we are already doing business in Southern Africa, West Africa, South America and Australia, while seeing considerable interest from countries in Europe and North America.
"Expanding our footprint has been made possible by building strong relationships with experienced channel partners who serve and know these mining regions."
Key relationships have been established with Australian smart technology company RCT, with Ramjack Technology Solutions and with Insucam. RCT has operations in 70 countries, Ramjack Technology Solutions provides system integration services globally and Insucam has a strong South American footprint.
"While our channel partners support the technology and the end-customer, there is also significant value-add in our collaboration as our partners are already experts in automation, remote control and interfacing."
Booyco Electronics is well positioned for its global growth owing to its familiarity with most mining environments, based on over 15 years in the field. Further, it is clear that PDS technology has much to offer mines globally, especially as mining operations seek digital integration that will continuously improve safety and productivity, Lourens concludes.